The language used by Tether's accountant in the latest quarterly attestation report suggests it's worried about the future existence of the stablecoin.
Tether has since undergone a sharp contraction since the May 9/10 collapse of the Terra stablecoin, with assets in Tether dropping from $83bn on May 11 to $73bn on May 21.
Tether loses $10bn in ten days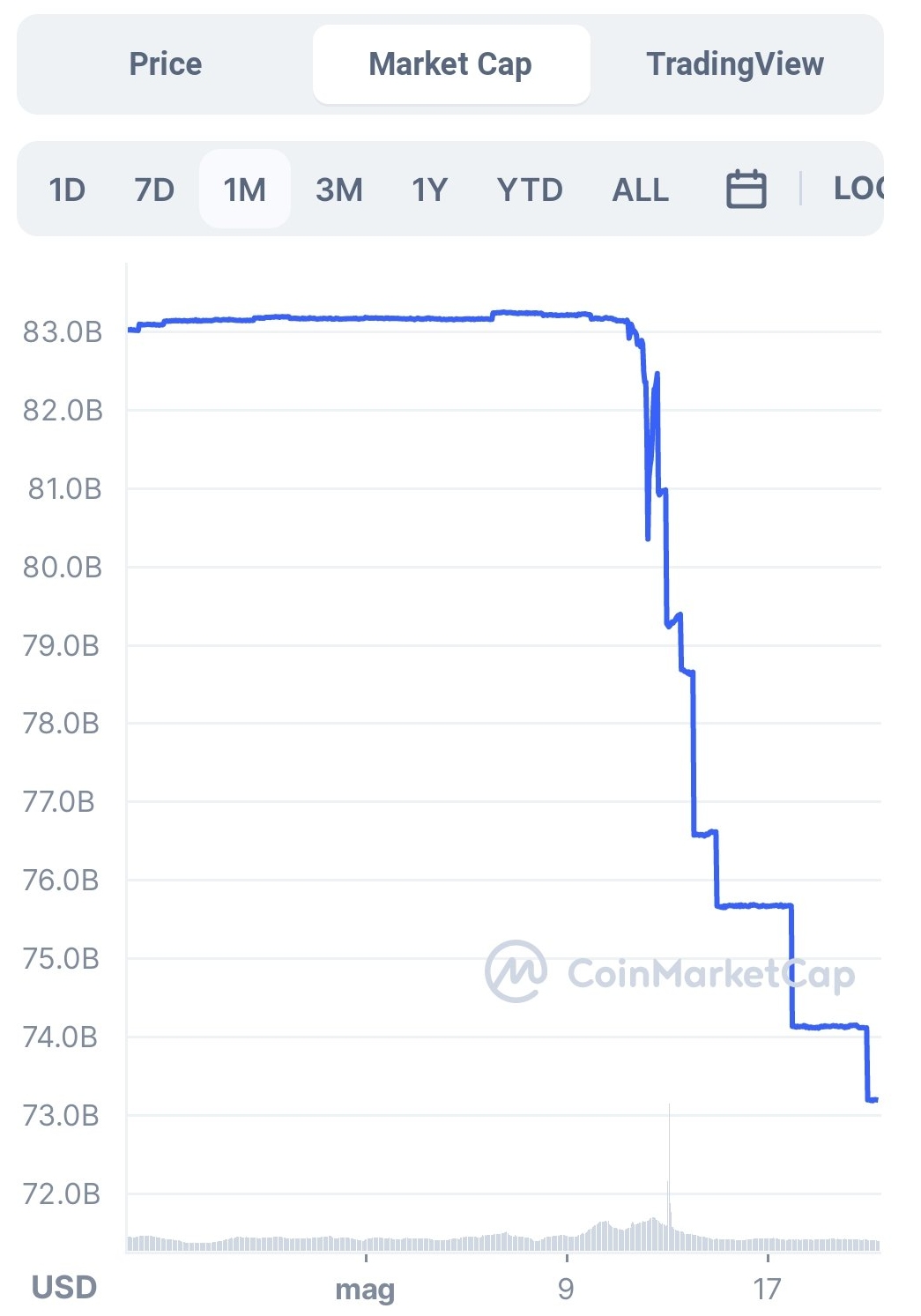 This shrinkage was the first significant fall in Tether's assets since the stablecoin came into existence in 2014.
Nervousness about stablecoins has spread to the market price of Tether tokens, which are supposed to trade 1:1 with the US dollar. On May 12 Tether tokens ($USDT) fell as low as 92 cents on cryptocurrency exchanges, but have since recovered in price to trade close to par value.
However, Tether has still not completely regained its dollar peg and is currently priced at 99.85 cents.
The stablecoin plays a critical role across the cryptocurrency markets, where it is widely used in trading, as collateral and on cryptocurrency deposit and lending platforms.
New going concern language
In the latest attestation report, released on 18 May and relating to Tether's assets and liabilities on 31 March, accountant MHA Cayman added new language that suggested uncertainty regarding the stablecoin's future prospects.
"We do not provide any assurance in respect of such assessment"
In its attestation, accountant MHA Cayman used 'going concern' language, a form of words that implies a business is stable enough to meet its obligations for the time being, but which suggests the accountant is taking a step back in judging the business as viable.
"The going concern assessment requires significant management judgement with regards to the [Tether] Group's liquidity, market and credit risks. We do not provide any assurance in respect of such assessment," MHA Cayman said.
The accountant added other new language to Tether's attestation, suggesting significant uncertainty with respect to the valuation of Tether's assets and its exposure to possible counterparty risks.
As at 31 March, Tether held 47 percent of its $83bn assets in potentially less liquid instruments, including commercial paper and certificates of deposit, money market funds, secured loans, corporate bonds, funds and digital tokens.
New language added to Tether's quarterly attestation (in red)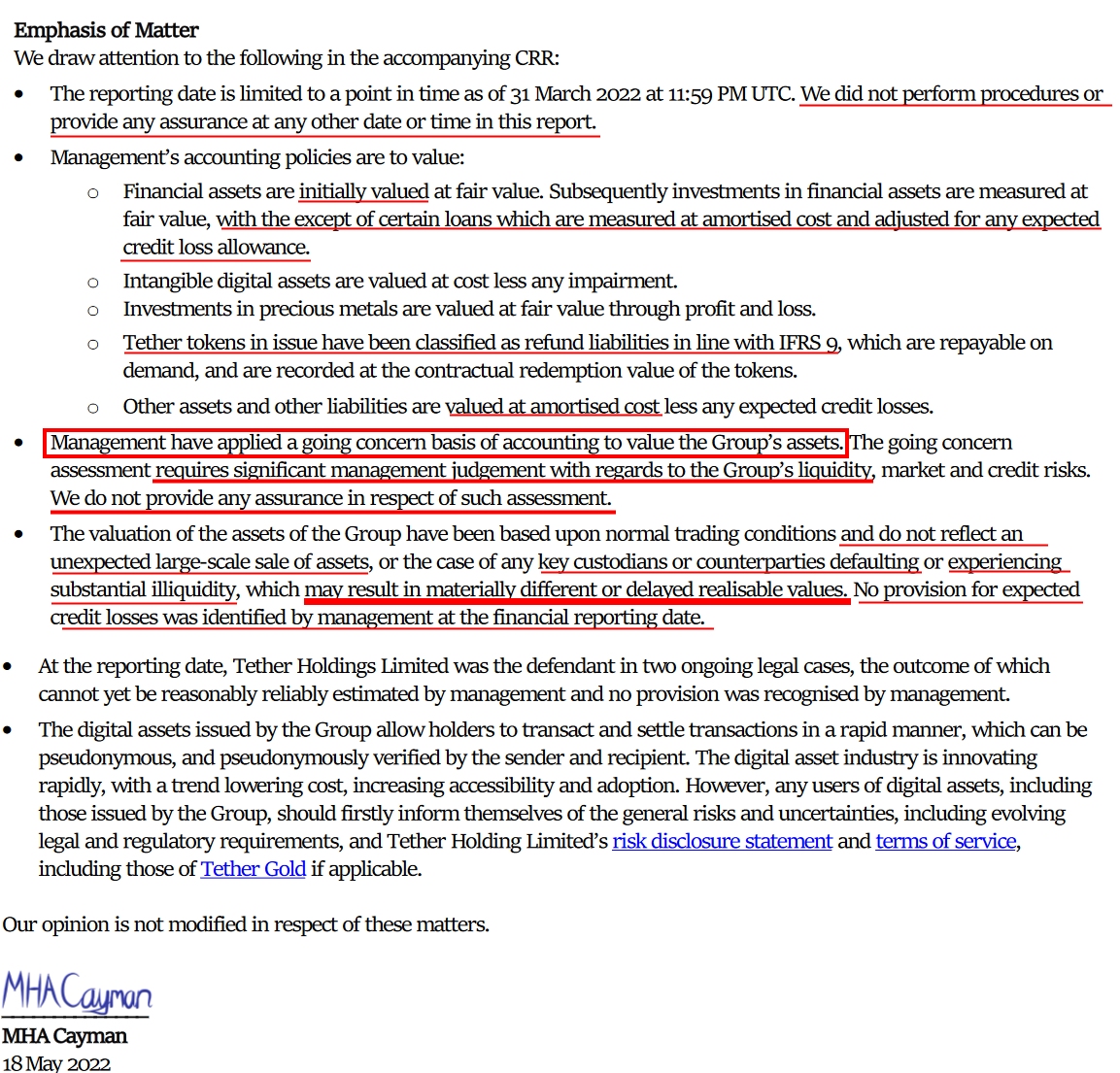 MHA Cayman said it was now valuing loans by Tether to third parties at amortised cost, adjusted for expected credit losses.
It added later in the attestation that no provision for credit losses had been made by Tether's management at the reporting date. In earlier attestations, the accountant said that loans were valued at fair value.
Tether has repeatedly promised an audit but has so far failed to produce one
MHA also said that the valuation of Tether's assets had been based upon normal trading conditions and did not reflect any unexpected large-scale sale of assets, or the case of any key custodians or counterparties defaulting or experiencing substantial illiquidity.
Any such defaults or illiquidity, said MHA, "may result in materially different or delayed realisable values" for Tether's assets.
Tether does not disclose the details of its reserves, nor its custodians or counterparties.
On May 17, Tether's chief technology officer, Paolo Ardoino, said that revealing counterparties would be equivalent to showing the stablecoin's 'secret sauce'.
"We're working on an audit (was announced some time ago) and hopefully regulators will push more auditing firms to be more crypto friendly," Ardoino tweeted.
"That is a gigantic red flag"
Tether has repeatedly promised an audit but has so far failed to produce one. Last July, for example, the stablecoin's general counsel, Stuart Hoegner, promised an audit 'within months'.
Last week Elizabeth Warren, senator for Massachusetts, called for a crackdown on cryptocurrency, criticising the lack of protections for ordinary investors. In her remarks to the US Senate Banking Committee, Warrant called out Tether for its lack of disclosure.
"Asked why they wouldn't produce audited financial disclosures, Tether's executives said it's because they don't want to spill their secret sauce," said Warren.
"I believe Tether doesn't want investors to know what is and what is not backing up this so-called stablecoin," said Warren.
"That is a gigantic red flag," she said.
Sign up here for the New Money Review newsletter
Click here for a full list of episodes of the New Money Review podcast: the future of money in 30 minutes
Related content from New Money Review
Stablecoins give regulators a headache
Did Terra operators bail out crypto whales?
Third-largest stablecoin loses its dollar peg
Terra depletes reserves in stablecoin panic
Unstable DeFi could trigger wider crash