On Friday night the USDC stablecoin fell to 10 percent below its $1 per share target value. On Saturday, the stablecoin's issuer said it would continue to redeem USDC at par. But the token continues to trade with a significant discount.
USDC loses parity to dollar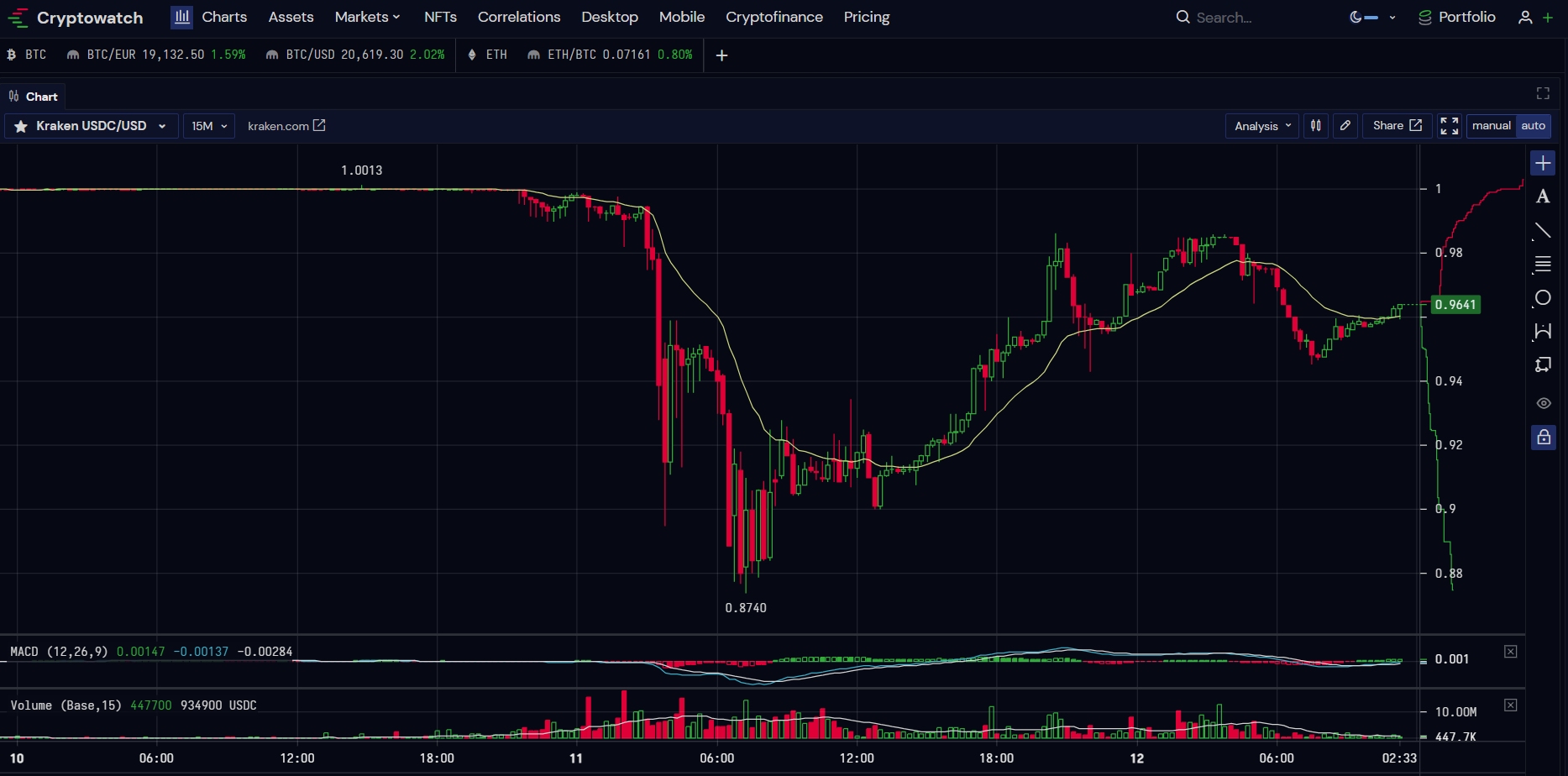 "As a regulated payment token, USDC will remain redeemable 1 for 1 with the US Dollar," Jeremy Allaire, CEO of Circle, the issuer of the USDC stablecoin, said on Saturday.
Allaire said that $3.3bn of USDC's cash remained at Silicon Valley bank (SVB), which was shut down by California regulators on Friday.
"USDC is currently collateralized 77% ($32.4B) with US Treasury Bills (with a three month or less maturation period), and 23% ($9.7B) with cash held at a variety of institutions, of which SVB is only one," Circle said in a blog.
"Last week, we took action to reduce bank risk and deposited $5.4bn with BNY Mellon, one of the largest and most stable financial institutions in the world, known for the strength of their balance sheet and as a custodian. $3.3bn of USDC's cash reserves remain with SVB."
Circle did not disclose from which banks it had moved the $5.4bn last week. However, eight days earlier, the firm said it had moved "the small percentage of USDC reserve deposits held at Silvergate to our other banking partners".
Silvergate bank went into voluntary liquidation on Thursday, a day before the Silicon Valley bank collapse.
USDC tokens, which had fallen to 88 cents in the dollar following the closure of SVB, recovered to 98 cents after Circle's Saturday statement, but have since fallen back to around 96 cents, indicating market uncertainty in the reliability of the promise of par redemption.
On Friday, Coinbase, which together with Circle is the only firm with which USDC holders can redeem their tokens for dollars, said it was temporarily suspending redemptions.
"We are temporarily pausing USDC:USD conversions over the weekend while banks are closed," Coinbase said.
"During periods of heightened activity, conversions rely on USD transfers from the banks that clear during normal banking hours. When banks open on Monday, we plan to re-commence conversions."
In its terms and conditions, Circle says that only "Type A" users—those with a verified account at Circle—can redeem directly with it.
There is significant uncertainty regarding the eventual recovery value of uninsured deposits stranded at SVB, including Circle's $3.3bn.
According to the Financial Times, on Friday uninsured SVB deposits were being quoted at a price of between 55 and 65 cents on dollar, according to Cherokee Acquisition, a claims trading platform in bankruptcy cases. Other deposits were being offered for between 70 and 75 cents on the dollar, according to a person familiar with the situation, the FT reported.
Other start-up founders had been able to sell uninsured deposits for 90 cents on the dollar, the FT quoted one venture capital investor as saying.
Yesterday, Circle said it would use its own corporate funds, if necessary, to cover any gap between the value of its reserves and the liabilities it has to USDC holders. However, it appears the firm may require external funding to meet this promise.
The firm had planned to go public in 2022 via a special purpose acquisition company (SPAC), but on December 5 the firm said it had cancelled the deal.
In its latest consolidated accounts, filed at the Securities and Exchange Commission, Circle reported a $3.9m profit in 2020 and an accumulated deficit of $375m at the end of that year.
If Circle recovered only 70-90 percent of its uninsured deposit at SVB, that would leave it on the hook to inject $330-990m to make holders of USDC whole.
Sign up here for the New Money Review newsletter
Click here for a full list of episodes of the New Money Review podcast: the future of money in 30 minutes
Related content from New Money Review
Silicon Valley bank run depegs USDC
Why stablecoins disrupt the financial plumbing
Stablecoins come unstuck again