Yesterday's decision by California's banking regulator to shut Silicon Valley bank after a $42bn run by depositors, the second-largest bank failure in US history, threatens far-reaching consequences.
One of its first victims is stablecoin USD coin (USDC), which fell to 90 cents in the dollar in overnight trading.
USDC, the second-largest dollar stablecoin, with around $40bn in assets, is issued by a consortium called Circle, which includes cryptocurrency exchange Coinbase and bitcoin mining company Bitmain.
USDC becomes 90¢C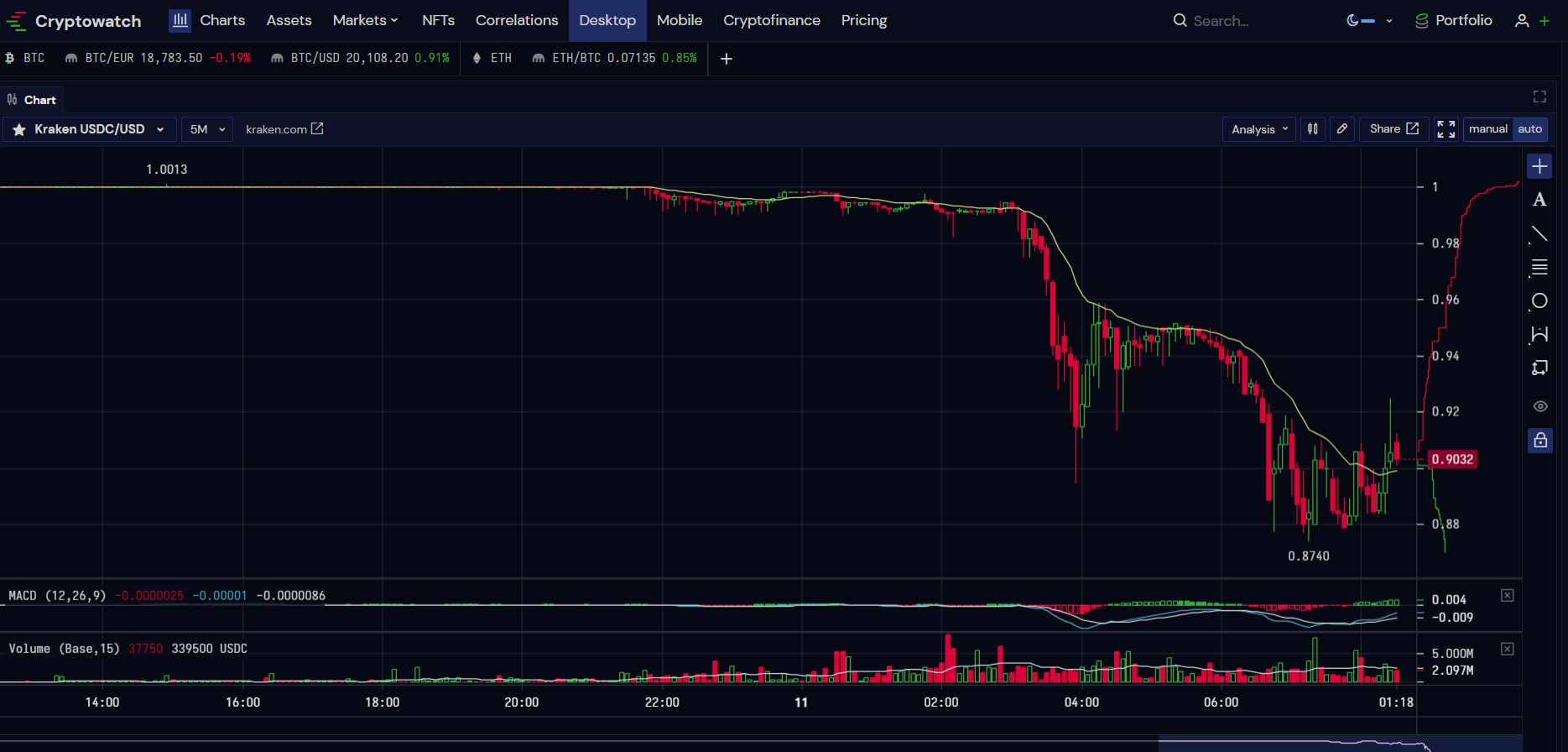 On its website, Circle describes USDC as "a fully-reserved stablecoin".
"Every digital dollar of USDC on the internet is 100 percent backed by cash and short-dated U.S. treasuries, so that it's always redeemable 1:1 for U.S. dollars", Circle says.
"USDC reserves are held in the custody and management of leading U.S. financial institutions, including BlackRock and BNY Mellon," it says.
At its latest monthly attestation, dated 31 January, USDC said that $9.9bn of its assets were held in bank accounts and the remainder in US government bonds.
The banks used were Bank of New York Mellon, Citizens Trust bank, Customers bank, New York Community Bank, Signature bank, Silicon Valley bank and Silvergate bank, USDC said.
Late on Friday, USDC said that $3.3bn of its current reserves of around $40bn remain at SVB.
Silvergate bank announced on Thursday that it is entering voluntary liquidation and aimed to repay depositors in full, subject to the liquidation plan proceeding as expected.
Yesterday, Federal regulators made clear that uninsured depositors at SVB (those with deposits above the $250k Federally insured limit) may lose some of their money.
In a press release, the Federal Deposit Insurance Corporation (FDIC) said that insured depositors will have full access to their insured deposits at SVB no later than Monday morning, March 13, 2023,
It will pay uninsured depositors an advance dividend within the next week, said the FDIC, while those depositors will then receive a certificate for the remaining amount of their uninsured funds, it said.
"As the FDIC sells the assets of Silicon Valley Bank, future dividend payments may be made to uninsured depositors," it went on.
Last night Coinbase said it was "temporarily pausing" conversions between USDC and US dollars while banks are closed over the weekend.
On the Curve 3 pool, an automated market making system allowing cryptocurrency market participants to exchange stablecoins, supplies of an alternative stablecoin, tether (USDT) had fallen to less than a million dollars by Saturday morning as market participants switched out of USDC.
On cryptocurrency exchange Kraken, USDT traded as high as $1.06, a six percent premium to its target of $1 per share, during the panic to exit USDC.
Sign up here for the New Money Review newsletter
Click here for a full list of episodes of the New Money Review podcast: the future of money in 30 minutes
Related content from New Money Review
Why stablecoins disrupt the financial plumbing
Stablecoins come unstuck again
Stablecoins give regulators a headache