Attempts to recapitalise the third-largest dollar stablecoin failed dramatically last night, sending Terra (UST) and its sister token Luna into a death spiral.
After Terra lost its dollar peg on Monday, trading as low as 60 cents, its market price stabilised at around 90 cents for most of Tuesday.
The price recovery followed an intervention from the Luna Foundation Guard (LFG), a reserve fund set up in January to help defend the stablecoin's market value.
By 08.00 UTC on Wednesday May 11, Terra was trading at only 40 cents in the dollar
On Monday the LFG Council, which governs the reserves, said in a series of tweets that it had decided to lend $750M worth of bitcoin to OTC trading firms "to help protect the UST peg".
The LFG said it had loaned out another $750m in Terra (UST) to trading firms "to accumulate bitcoin as market conditions normalise".
On Tuesday at 18.36 UTC, cryptocurrency publication the Block reported that the LFG had been reaching out to large crypto investors in the hope of raising an additional $1bn to shore up UST. The Block cited three sources with knowledge of the process.
Larry Cermak, vice president of research at the Block, later tweeted that cryptocurrency trading firms Jump and Jane Street had committed to the bailout earlier on Tuesday, together with crypto lending platform Celsius.
LFG, said Cermak, was targeting a $1-1.5bn capital raising by means of a private issuance of the Luna token at a 50 percent discount to its market value.
Around $700m in commitments had been collected as at the morning of Tuesday, said Cermak.
However, later that day, the Terra stablecoin price broke down again as market participants lost faith in the prospects of a rescue.
By 08.00 UTC on Wednesday May 11, Terra was trading at only 40 cents in the dollar.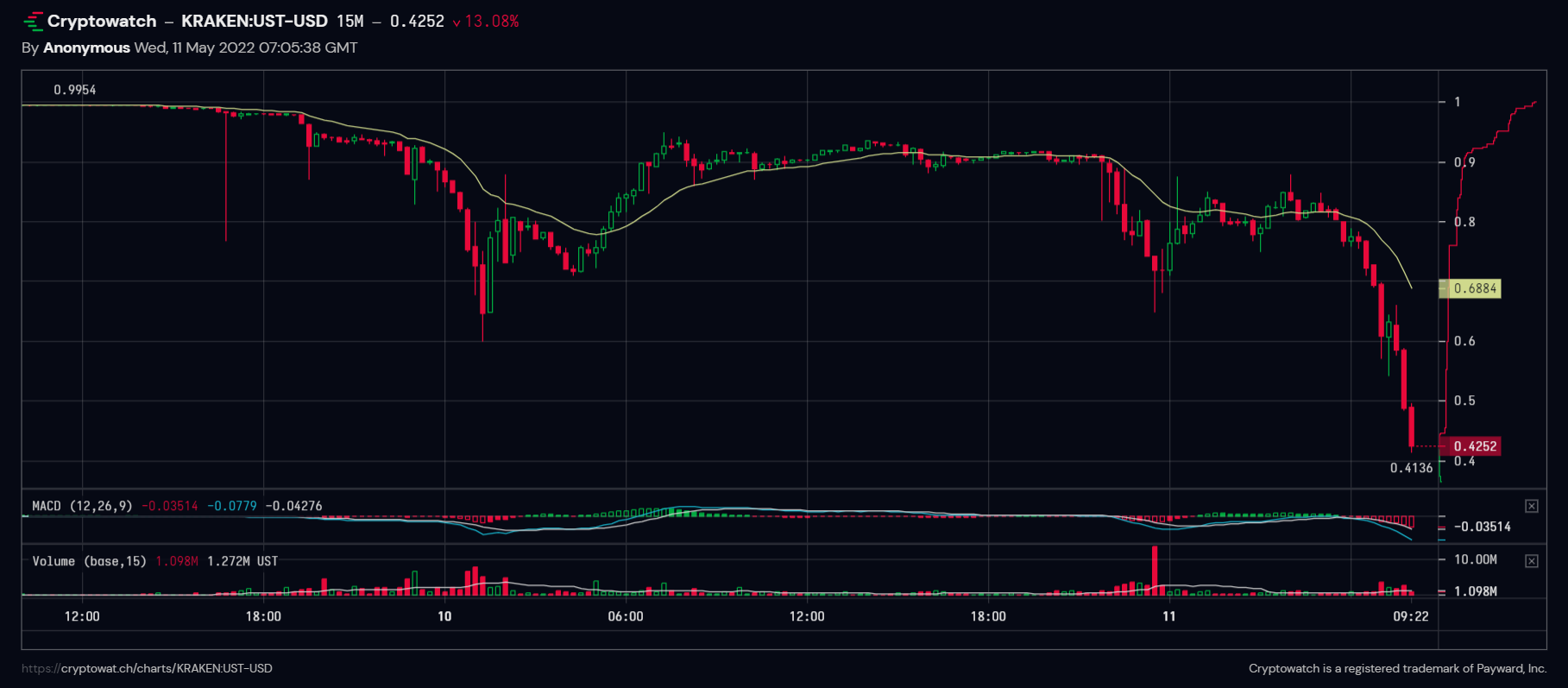 Meanwhile Luna, the free-floating cryptocurrency token which is supposed to stabilise Terra's market price at $1, has lost almost all its value in a dramatic collapse.
By 08.00 UTC Luna was trading at $5, an 85 percent price collapse over 24 hours and a 96 percent decline from an all-time high of $119.50, reached just over a month earlier.
The Luna crash has wiped out around $40bn in market capitalisation, hitting many retail investors who had joined in the cryptocurrency's price rise earlier this year.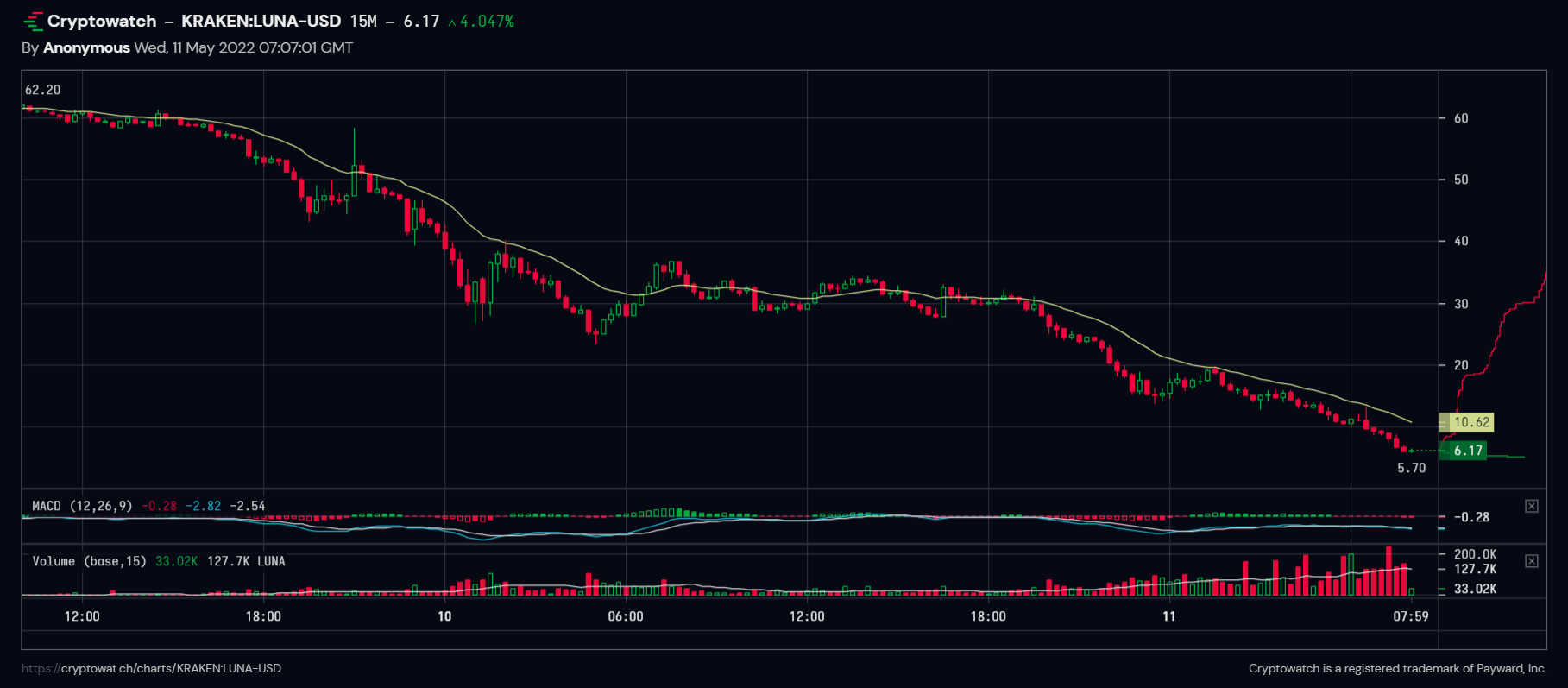 Attempts on social media by the chief executive of Terraform Labs, which issues both Terra and Luna, to stop the selling were futile.
"Getting close … stay strong, lunatics"
"Close to announcing a recovery plan for $UST. Hang tight," Do Kwon tweeted at 15.32 UTC on Tuesday 10 May.
"Getting close … stay strong, lunatics," he tweeted at 23.09.
However, in the subsequent hours, the prices of UST and Luna both plummeted.
Sign up here for the New Money Review newsletter
Click here for a full list of episodes of the New Money Review podcast: the future of money in 30 minutes
Related content from New Money Review
Third-largest stablecoin loses its dollar peg
Terra depletes reserves in stablecoin panic
Unstable DeFi could trigger wider crash