Transaction fees on the bitcoin network have surged after a new spike in retail speculation in cryptocurrencies.
Having traded in a $2-4 range for the last year, in recent days the average fee to process a bitcoin transaction has jumped to over $30.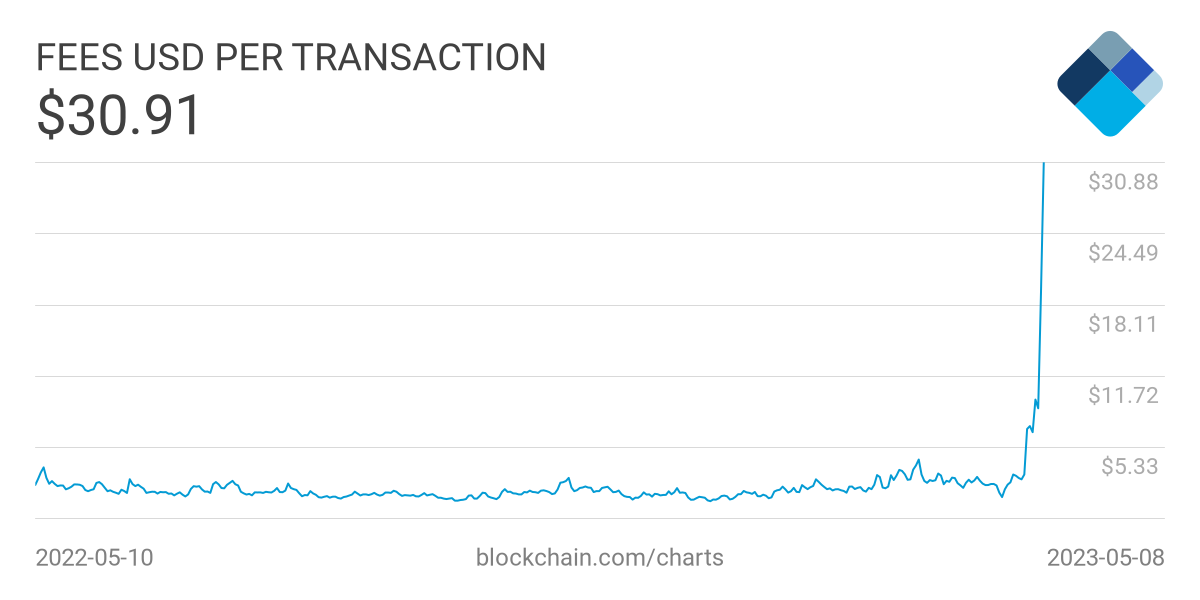 Transaction fees have risen to this level twice before, in December 2017 and April 2021, on both occasions near a temporary top for bitcoin prices.
Bitcoin traded near $27,500 per coin at midday London time on 9 May, down from an interim peak of $31,050 reached in mid-April.
Together with the so-called block subsidy, transaction fees are the incentive for bitcoin miners (those keeping an electronic record of past transaction data) to spend money on the equipment and electricity needed to participate in the cryptocurrency network.
a surge of interest in so-called 'memecoins' is responsible for the bitcoin network congestion
There are currently around 500,000 bitcoin transactions per day, meaning that transaction fees are generating about $15m daily for miners.
As around 900 new bitcoins (worth around $25m) are minted per day in the form of a block subsidy, this means transaction fees are close to generating half bitcoin miners' overall revenue.
The latest spike in bitcoin transaction fees has been driven by a new bout of retail speculation in cryptocurrency.
According to Bloomberg, a surge of interest in so-called 'memecoins' is primarily responsible for the bitcoin network congestion.
Several of these memecoins use bitcoin for the settlement of their transactions, using a new bitcoin-based token standard called 'BRC-20' that was invented in March by an anonymous programmer.
One memecoin, 'Pepe', jumped more than 3,000 percent in price after it was launched in April. Another bitcoin-based memecoin, 'Ordi', was launched this weekend and saw its market value surge to as much as $900 million.
"This is a learning opportunity for us and we'll do our best to prevent this from happening again"
Bitcoin's network congestion has had knock-on effects across the cryptocurrency ecosystem. On Monday Binance, the world's most active cryptocurrency exchange, temporarily stopped clients from withdrawing bitcoin, blaming the large volume of unconfirmed transactions on the network.
Three hours later the firm said it was resuming client withdrawals, having hiked its own transaction fees in the interim.
"This is a learning opportunity for us and we'll do our best to prevent this from happening again," Binance said on Twitter.
The latest speculation in cryptocurrency has been mirrored in the technology segment of the US stock market.
After a poor performance in 2022, Meta (owner of Facebook and Instagram) shares are up 87 percent so far this year.
And despite Elon Musk's apparently disastrous purchase of Twitter, small investors continue to back his judgement—they have pushed Musk's car company Tesla's shares up by almost 60 percent.
The continuing exuberance amongst retail traders poses a challenge for the US Federal Reserve, which last week raised its benchmark Fed funds rate to 5.25 percent, the tenth rate hike since March 2022 and the highest level since 2007.
Federal funds futures traded on the CME exchange suggest market participants believe official interest rates have now peaked and will fall to 3 percent by the end of 2024.
More on this topic
Bitcoin transaction fees rise—but are they enough? 
Ethereum fees up tenfold in five months
Listen in
Expert views on money, finance, politics and technology—listen to the New Money Review podcast