Cryptocurrency lender and deposit-taker Celsius Network is under increasing pressure after this month's rout in stablecoins.
As at 06.00 GMT on 27 May, Celsius's native token $CEL was trading at $0.57, a 23 percent decline in 24 hours and a 93 percent fall from an all-time high of $8.01, reached on June 4 last year.
$CEL 1-year chart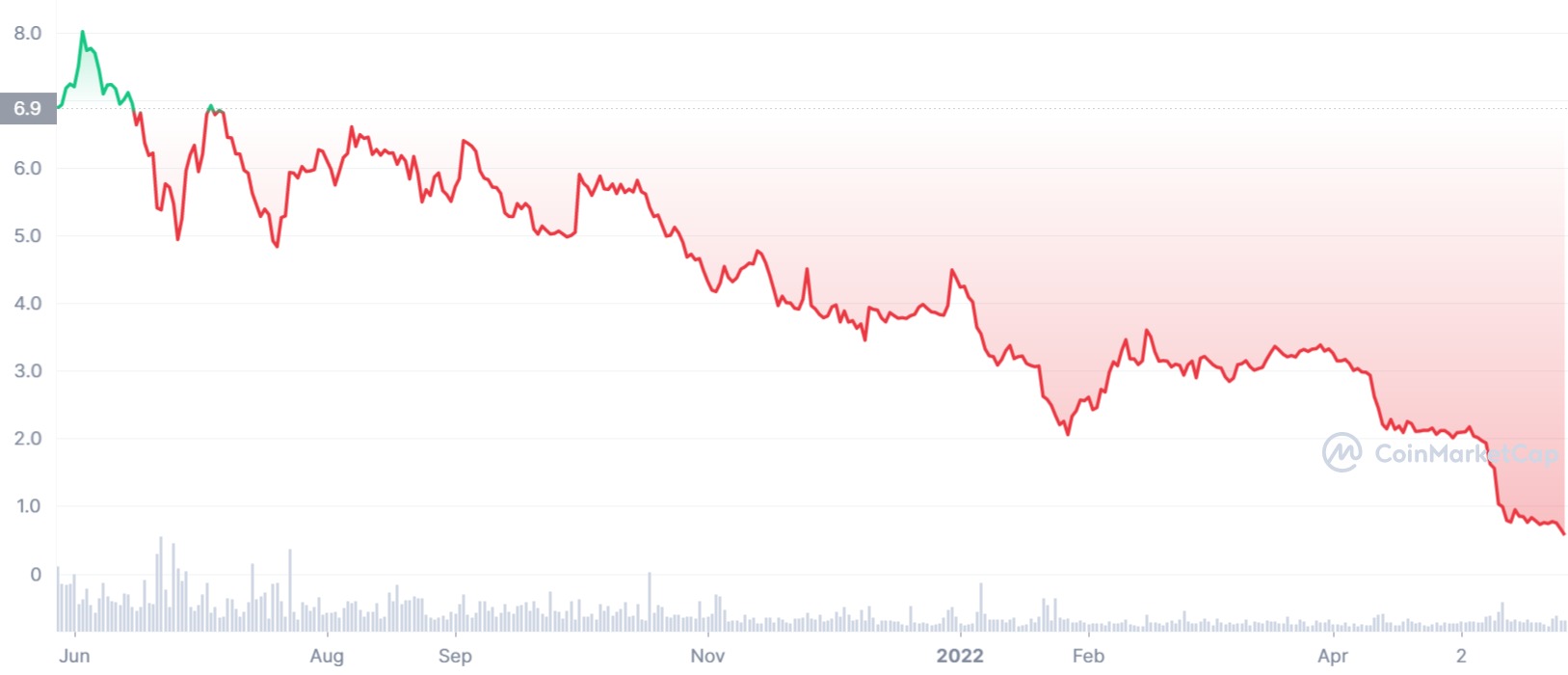 Celsius uses the $CEL token to remunerate depositors of cryptoassets at a higher rate than if interest is paid in the asset itself.
For example, clients transferring the largest stablecoin Tether to Celsius are promised up to 9.32 percent in annual percentage yield when paid in $CEL, compared to 7.1 percent if paid in Tether.
Clients of Celsius do not enjoy protection from any deposit insurance schemes and enter into a borrower/lender relationship with the platform.
"Your Celsius account is not a bank account"
"Your Celsius account is not a bank account, deposit account, savings accounts, checking account, or any other type of asset account and should not be characterized as a banking product or service," Celsius says in its terms of use.
"The use of terms such as 'account', 'account balance', 'withdraw' and similar language in connection with the earn service and the borrow service does not imply or establish, and shall not be taken to suggest, any form of custody relationship," Celsius says.
Clients wishing to withdraw their cryptocurrency from Celsius's loan programme first have to transfer it to a custody wallet at Celsius, a process that can take up to three days. After this, they can transfer it to another cryptocurrency address.
According to an account called Celsians Network on Twitter, for the week ending May 12 Celsius saw withdrawals of $754m, the largest-ever weekly transfer of client funds away from the platform.
Celsians Network has not yet provided a net transfers figure for the weeks ending May 19 or May 26.
It is not possible to reconcile the funds flows figures reported by Celsians Network with the total assets figure reported by Celsius on its own website.
Celsius's self-reported assets have more than halved from a peak reached late last year. The company said it had $11.8bn of assets on 17 May, down from $24.1bn on 24 December 2021.
In the last published company accounts, for the calendar year 2020, Celsius reported a loss before tax of $1,719 million, up from a loss before tax of $40 million in 2019.
In those accounts, Celsius said it had net assets of $1.4bn at the end of 2020, up from $34m at the end of 2019.
In October 2021, Celsius said it had raised $400m in a new fundraising round, valuing the firm at $3bn, 2,400 percent higher than during a first equity round conducted in 2020.
The 2021 fundraising was led by equity firm WestCap and Caisse de dépôt et placement du Québec (CDPQ), Canada's second largest pension fund and the manager of several public sector retirement schemes.
In November, Celsius CEO Alex Mashinsky told Cointelegraph he expected the platform's valuation to 'double or triple' in 2022.
Celsius's CEO and his wife have been active sellers of the $CEL token over the last year
According to a pseudonymous Twitter account called Dirty Bubble Media, Celsius's CEO and his wife have been active sellers of the $CEL token over the last year.
On January 9 Dirty Bubble Media published an analysis of blockchain data, suggesting that Alex and Krissy Mashinsky had sold approximately 20 million CEL since October 2020, netting at least $60 million.
"Alex Mashinsky has now sold 316,000 $CEL out of this wallet over the last month, another 9,832 just two hours ago. Grossed >$440,000 so far. He continues to dump into a collapsing $CEL market," Dirty Bubble Media said on 25 May.
Yesterday, Dirty Bubble Media published evidence suggesting that Celsius Network's position on the Maker DAO network had come close to being liquidated during the sharp fall in cryptocurrency prices on May 12.
Maker DAO is an automated cryptoasset lending and borrowing platform operating on the ethereum blockchain.
According to Dirty Bubble Media, on May 12 Celsius had to transfer 2,200 'wrapped' bitcoin, worth around $55m, into Maker DAO in response to a margin call and to prevent its position being liquidated.
In October Bloomberg reported that Celsius was a major creditor of Tether.
Celsius, said Bloomberg, citing Celsius's CEO, had borrowed 1 billion tether tokens and was paying 5-6 percent interest on the loan. To collateralise the loan, Celsius was giving bitcoins to Tether, Bloomberg said.
Tether does not disclose its counterparties, saying this would amount to giving away its 'secret sauce'.
Sign up here for the New Money Review newsletter
Click here for a full list of episodes of the New Money Review podcast: the future of money in 30 minutes
Related content from New Money Review
Unstable DeFi could trigger wider crash