Cryptocurrency exchange Binance today regained access to the UK's Faster Payments system, which enables 24/7 real-time sterling payments of up to £1m.
Binance is using UK-based electronic money institution Paysafe for its faster payments access.
According to the Financial Times, Paysafe will have control of anti-money laundering (AML) and compliance checks for Binance customers. Paysafe says Binance will be responsible for collecting the information it needs to run those checks.
Paysafe has its HQ in London but its shares were listed on the New York Stock Exchange in March last year following a merger with special purpose acquisition company (SPAC) Foley Trasimene Acquisition Corp II.
Paysafe ($PSFE) shares have fallen nearly 80% since the merger.
Paysafe share price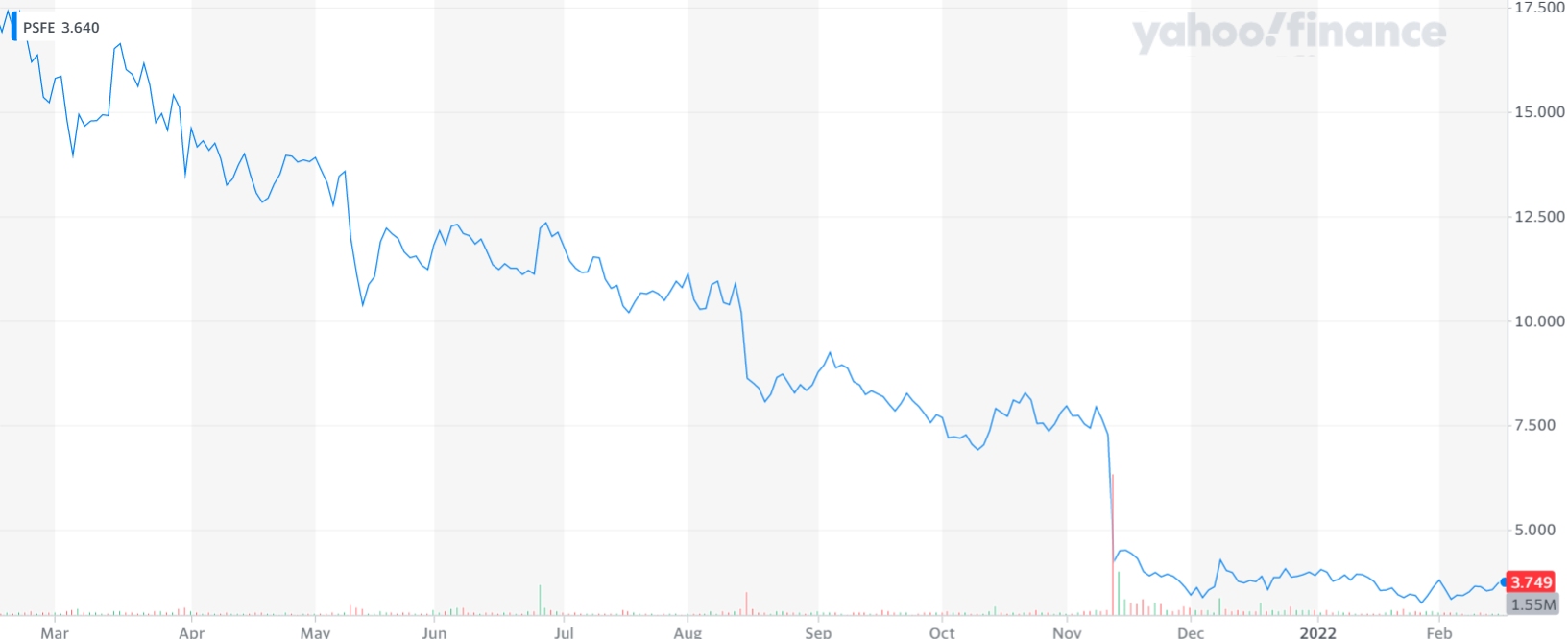 Paysafe has a rating of 1.8/5 (Poor) on UK Trustpilot, with multiple complaints about poor customer service, accounts being blocked for consumer reasons and clients losing access to their funds.
It's only eight months since the UK financial services regulator, the Financial Conduct Authority (FCA), issued a consumer warning about Binance, saying its trading arm Binance Markets Limited is not permitted to undertake any regulated activity in the UK.
In August, the FCA also published a supervisory notice in which it said it was incapable of effectively supervising Binance Markets Limited.
Now, according to the FT, the FCA has said that while it had been notified about the Paysafe deal, its "concerns about Binance remain".
The regulator said it had "limited powers to object to arrangements of this kind".
The UK's Faster Payments system is regulated by the Payments Services Regulator, which works with the Bank of England and the FCA under a 2018 memorandum of understanding to supervise the UK's payments systems.
Last summer, Binance faced a series of bans from regulators in different countries, as well as exclusion from the European Central Bank's Single Euro Payments Area (SEPA). SEPA allows real-time payments within the eurozone of up to a billion euros.
However, Binance announced on 22 January it had rejoined SEPA, also using Paysafe as its intermediary.
With today's announcement that it is rejoining the UK's faster payments system, Binance again seems several steps ahead of regulators. It's a cat-and-mouse game it's been playing – apparently successfully – for several years.
But the dangers for Binance haven't gone away. Yesterday the Wall Street Journal reported that Binance is facing new scrutiny from the US Securities and Exchange Commission (SEC) over links between its US exchange and two trading companies owned by Binance's CEO, Changpeng Zhao.
In the past, Binance has faced allegations of trading against its own customers, of benefiting from the forced liquidation of leveraged trading positions and of covering up related data. Binance is currently involved in lawsuits over such allegations.
Meanwhile, Binance's 44-year-old CEO has become one of the most powerful figures in global finance. Bloomberg said in January he has amassed a $96bn fortune from cryptocurrency, placing him 14th in a list of the world's richest people.
Sign up here for the New Money Review newsletter
Click here for a full list of episodes of the New Money Review podcast: the future of money in 30 minutes
Related content from New Money Review
Binance plays cat and mouse with regulators
Binance CEO disowns smart chain scams
Did Binance cover up May 19 liquidations?