Cryptocurrency exchange Binance is facing legal action or new regulatory scrutiny in at least ten countries as a global crackdown spreads. But the exchange is fast unveiling new payment gateways to keep clients onboard and counter the pressure from authorities.
Thailand, Caymans and Singapore developments
In the latest development, earlier today the Thailand securities regulator, the Thai Securities and Exchange Commission, filed a criminal complaint against Binance for having operated a digital assets exchange in the country without a licence.
Yesterday, the Cayman Islands Monetary Authority (CIMA), the Caribbean country's securities regulator, issued a statement saying Binance, the Binance Group and Binance Holdings Limited are not registered, licensed, regulated or otherwise authorised by the Authority to operate a crypto-currency exchange from or within the Cayman Islands.
CIMA said it is investigating whether these three companies or any affiliate has any activities operating in or from within the Cayman Islands which may fall within the scope of its regulatory oversight.
A search for 'Binance' on the Cayman Islands company register brings up 'Binance Holdings Limited' as an entity incorporated in the country.
According to company information service DNB, Cayman-based Binance Holdings Limited has 100 employees 'across all of its locations' and generated $16 million in sales in the latest financial year.
There are four other companies in Binance Holdings Limited's corporate family, DNB says, while the company's principal is Changpeng Zhao, Binance's chief executive.
In Singapore, the Monetary Authority has told a Binance group company called Binance Asia Services Pte that it has a grace period during which it can operate in the city-state, Bloomberg reported yesterday.
This grace period will last while the Monetary Authority of Singapore reviews Binance's application for a license to provide digital payment token services, the regulator told Bloomberg.
UK risk warning
Last Saturday, the UK Financial Conduct Authority (FCA) issued a consumer risk warning on UK-based Binance Markets Limited and the broader Binance Group.
The FCA said Binance Markets Limited is not currently permitted to undertake any regulated activities in the UK without its prior written consent, and that no other entity in the Binance Group holds any form of UK authorisation, registration or licence to conduct regulated activity in the UK.
The FCA also demanded that Binance publish a risk warning to this effect on Binance.com 'in a prominent place'.
Yesterday, Binance published a special notice on its website, two levels down from the home page, to comply with the FCA's request.
Binance, however, added on another, earlier landing page that "the FCA Notice does not apply to the products and services provided through www.binance.com, nor does it change any arrangement with our users".
Sterling payments to Binance frozen, then unlocked
On June 29 the Financial Times reported (paywall) that Binance.com's UK clients had been prevented from funding their account or withdrawing funds in sterling.
The ability to remove or add sterling to Binance using bank cards had been 'suspended for maintenance', the FT said, while a day earlier customers had also been frozen out of the UK's Faster Payments network for the same reason.
Faster Payments allows retail clients to transfer money from their own bank account to another account in a few seconds.
On June 30, the channels to buy cryptocurrency using sterling on Binance.com were still marked as 'suspended'.
Options to make payments to Binance.com via the Dutch iDEAL payment system were also marked as suspended on that date, as were payments in Ghanaian cedi, Kenyan shillings and Nigerian naira.
Sterling payments to Binance.com suspended on June 30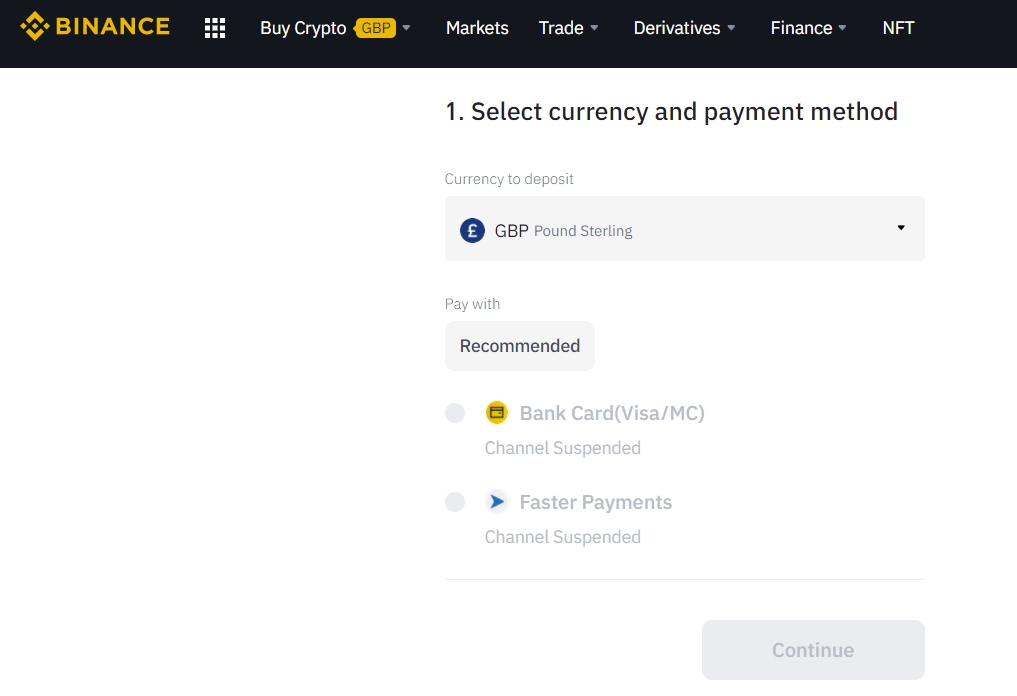 However, by July 2 sterling payments on the platform were once again available.
Card payments in sterling would now be processed by a third-party payments provider called Simplex, Binance said, while access to Faster Payments would now be given by a firm called Banxa.
Simplex, founded in 2014, is an Israeli fintech start-up that was recently acquired by Canadian payment tech company Nuvei.
"We focus on solving problems, and we will. As always, thank you for your trust and support! We will continue to grow together"
Banxa, an Australian company, says on its website that it is 'an internationally compliant fiat-to-crypto gateway solution for exchanges, wallets and other cryptocurrency businesses'.
On July 2, options to purchase cryptocurrency using Ghanaian cedi, Kenyan shillings and Nigerian naira were also once again available on Binance.com.
Sterling payments to Binance.com by card and faster payments reinstated by July 2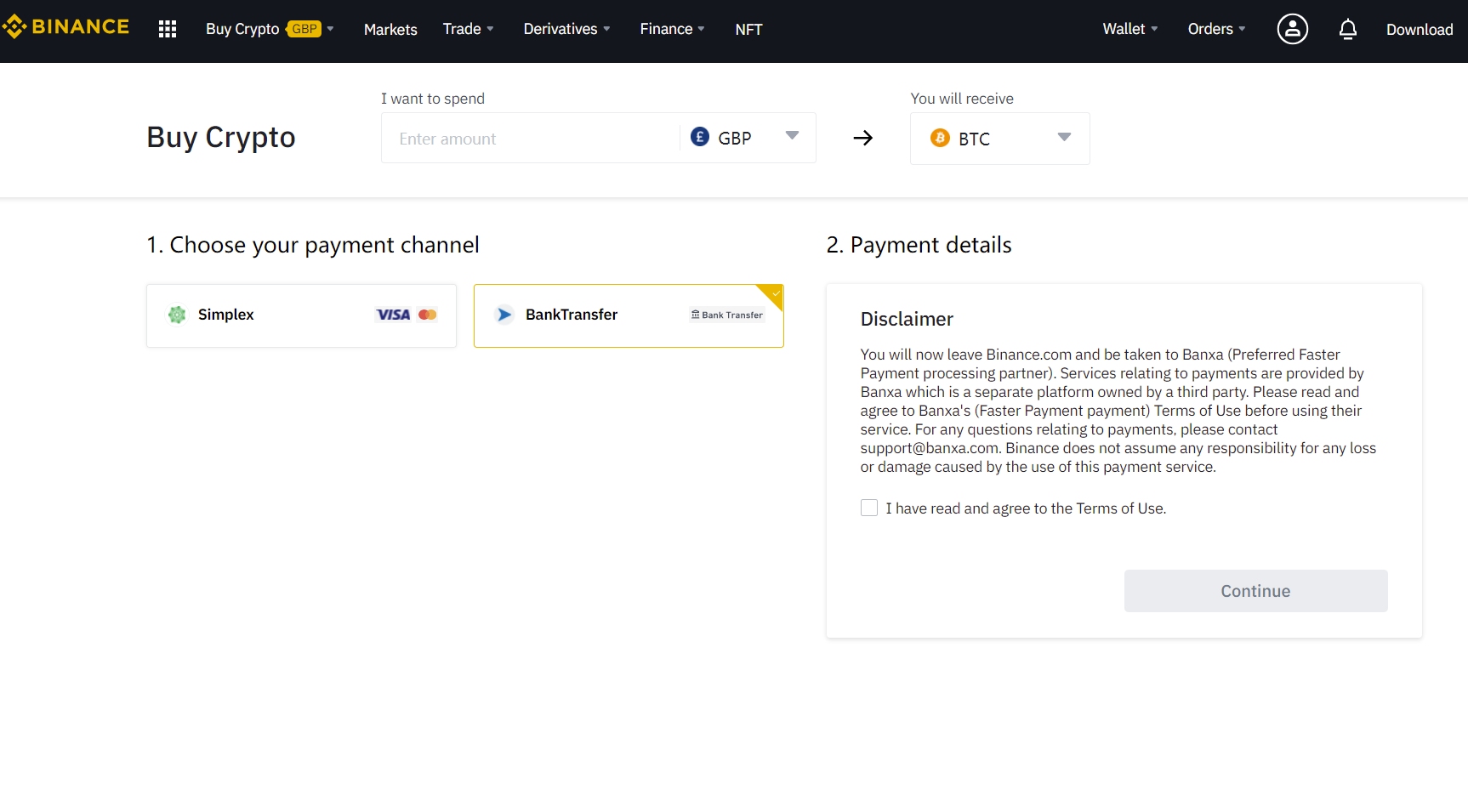 "For those who has been following/supporting us, you know we don't engage in debates/fights, we focus on solving problems, and we will. As always, thank you for your trust and support! We will continue to grow together," Binance's CEO, Changpeng Zhao, said on Twitter on 2 July.
Sign up here for the New Money Review newsletter
Click here for a full list of episodes of the New Money Review podcast: the future of money in 30 minutes
Related content from New Money Review
Largest crypto exchange enters US equity trading