Bitcoin's hash rate has fallen by nearly half in two months after the Chinese cryptocurrency mining sector was largely shut down.
Bitcoin hash rate plummets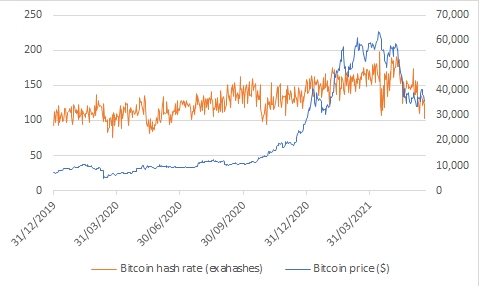 At 102 exahashes per second on June 19, the hash rate was down from a record 198 exahashes per second on April 15, according to data from Coinmetrics.
An exahash is a million trillion (1018) hashes.
Bitcoin miners—specially designed computers—perform rapid calculations of the cryptocurrency's 'hashing' algorithm, a form of mathematical guessing game designed to reward the winner with newly minted units of the cryptocurrency. Miners also collect the aggregate transaction fees used in transferring bitcoin.
The current level of mining activity was last seen in October 2020, when the bitcoin price per dollar was around $13,000. Bitcoin's market price today was around $34,000.
The sharp drop in the hash rate reflects a recent shift in the political mood in China, where the majority of bitcoin mining has historically been concentrated.
On 21 May China's State Council said it would 'crack down on bitcoin mining and trading behaviour'. The announcement came two days after cryptocurrency markets suffered a dramatic sell-off, sending the bitcoin price temporarily below $30,000.
Two days ago the Sichuan government ordered local state-owned power grids to cut off the supply for 26 mining farms by today at the latest.
A video posted on Chinese social media app WeChat showed employees at a bitcoin mining farm in China climbing onto racks of mining equipment to turn the machines off.
The bitcoin mining industry is subject to dramatic boom/bust cycles as price movements in the underlying coins translate into larger price swings in the hardware used to produce cryptocurrency.
During the last (2017-2018) bear market, the price of a popular bitcoin mining machine, the Antminer S9, collapsed by as much as 98 percent.
Sign up here for the New Money Review newsletter
Click here for a full list of episodes of the New Money Review podcast: the future of money in 30 minutes
Related content from New Money Review