The volume of tethers in issue has doubled since the end of 2020 to over $45bn, despite continuing uncertainty over the largest stablecoin's asset backing.
Tether is a cryptocurrency version of the US dollar, first introduced in 2014 as a way for crypto users without access to bank accounts to move money.
As well as doubling in size since year-end, tether's market capitalisation is now up around fifteen-fold since the beginning of 2020.
The rise of tether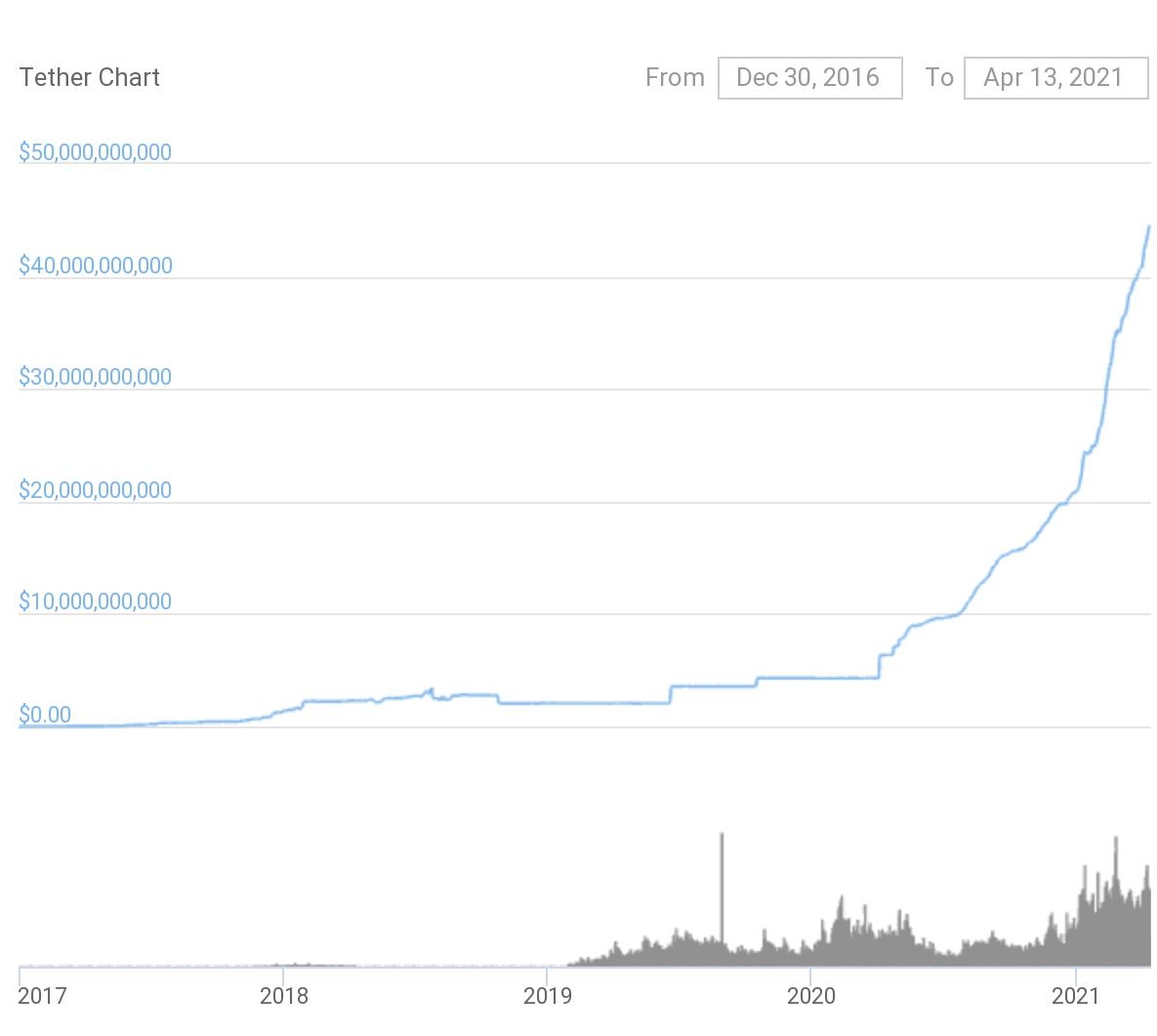 (Coingecko)
The crypto-dollar is increasingly used across the world's crypto exchanges as the asset in which other tokens are quoted.
"One of the underlying market dynamics of the past three years has been the rise of stablecoins," Galen Moore of Coindesk said last week.
"Tether, in particular, has replaced bitcoin as the dominant quote currency of crypto altcoin trading. What that means is, when I want to use crypto to buy crypto on an exchange, I'm much more likely to be doing that in tether," Moore said.
According to research firm Kaiko, 68 percent of bitcoin trading against the dollar takes place by means of tether, with only 32 percent taking place against traditional fiat currency (dollars held in bank accounts).
"Tether's rise heralds a new paradigm in the history of money and payments"
This means that institutional investor flows into and out of bitcoin are still smaller than the flows involving crypto-native investors, many of whom are based in Asia, suggests Kaiko.
"The ratio of BTC-USD to BTC-USDT (tether) trading volume can be considered an indicator of institutional inflows into crypto, assuming that institutional investors prefer using regulated fiat exchanges such as Coinbase, as opposed to exchanges that only offer stablecoin pairs, such as Binance," Kaiko said in an end-March report.
Binance, the world's largest cryptocurrency exchange, yesterday announced it was moving into the trading of US equities using its own native US dollar token, BUSD.
According to Paolo Ardoino, Tether's CTO, "Tether's rise heralds a new paradigm in the history of money and payments. The elegant utility of Tether will power an array of apps across different devices throughout this decade. Tether is truly a trailblazer in technological innovation. The market has once again spoken on the most liquid, stable and trusted stablecoin."
Ardoino pointed out that Tether's market cap gain since end-2020 is greater than the combined market capitalisation of all rival stablecoins combined.
However, mystery still surrounds the reserve backing of tether tokens. Although Tether recently published an attestation from a Cayman Islands accounting firm that tethers were fully backed by reserves at the end of February 2021, it did not disclose the make-up of those reserves.
"Tether has a lot of work left to do on transparency"
In 2019, Tether backtracked from an earlier commitment to back its tokens only by dollars held in bank accounts and said that henceforth the backing could consist of other assets, including intracompany loans.
This disclosure came after the stablecoin issuer was sued by the New York State Attorney General for fraud.
In a 23 February 2021 settlement agreement, the New York State Attorney General said Tether had in the past lied outright about its reserve backing.
As part of the agreement, Tether committed within ninety days to provide documents substantiating its reserve accounts.
The token issuer said it would also verify it is keeping clients' money separate from its own operational accounts and those of Tether's affiliate company, cryptocurrency exchange Bitfinex.
According to cryptocurrency analyst John Paul Koning, Tether still lags on transparency when compared to other stablecoin issuers.
"It's good to see that Tether, the world's largest stablecoin, has belatedly adopted the industry standard of providing attestations," Koning said in response to Tether's release of an end-February attestation report.
"But compared to its competitors, Tether has a lot of work left to do on transparency," Koning said.
"Competing stablecoin Gemini Dollar provides attestations that show exactly how customer funds are invested. But Tether's attestations don't tell us anything about the composition of its investments. Does it hold beanie babies? Risky loans?"
"Tether will provide attestations each quarter. But what about all the time in-between? Other stablecoins already offer real-time attestations, so customers have 24/7 insight into how their funds are held," Koning said.
Sign up here for the New Money Review newsletter
Click here for a full list of episodes of the New Money Review podcast: the future of money in 30 minutes
Related content from New Money Review
NY Attorney General says Tether lied outright about its reserves
Tether's backing could be disclosed later this year
BitMEX trials could throw light on tether