Last month cryptodollar issuer Tether agreed with New York prosecutors to come clean on its reserves, long a topic of controversy. But the general public may still end up none the wiser about Tether's backing.
In its 23 February settlement agreement with the New York State Attorney General (NYAG), Letitia James, Tether committed within ninety days to provide documents substantiating its reserve accounts. The token issuer said it would also verify it is keeping clients' money separate from its own operational accounts and those of Tether's affiliate company, cryptocurrency exchange Bitfinex.
But the NYAG failed to respond to a question from New Money Review about whether it will be publishing details of Tether's reserve backing once it receives them.
The settlement agreement states that Tether will itself publish the categories of assets backing tether, and whether any category constitutes a loan to an affiliated entity, for a period of two years.
For its part, Tether has so far only made a public commitment to provide 'an update on tether's asset backing' at some point during 2021.
Lack of clarity on reserve backing
In the settlement agreement, the NYAG provided evidence that Tether had in the past repeatedly mixed clients' funds with its own and those of Bitfinex.
According to James, Tether had also repeatedly lied about its asset backing and had operated for long periods without adequate cash reserves.
Tether's website says that its dollar tokens are backed by reserves, which include 'traditional currency and cash equivalents and, from time to time, may include other assets and receivables from loans made by Tether to third parties, which may include affiliated entities'.
Prior to February 2019, Tether had said that its tokens were fully backed by traditional currency held in bank accounts.
Bahamas CB data show insufficient cash to back Tether
Tether's bank, Deltec Bank and Trust, is based in the Bahamas. But the total foreign currency deposits across all the country's banks at the end of 2020 were far short of the amount needed to back all the tethers in issue with hard cash.
According to the Bahamian central bank, the total foreign currency deposits held by domestic banks were $5.67bn at the end of 2020. At the same date, the total value of tether tokens in issue was $20.92bn.
The pace of issuance of tethers has since accelerated. From the beginning of 2021 the value of the tethers outstanding has nearly doubled, reaching $37.9bn by March 11.
Tether issuance accelerates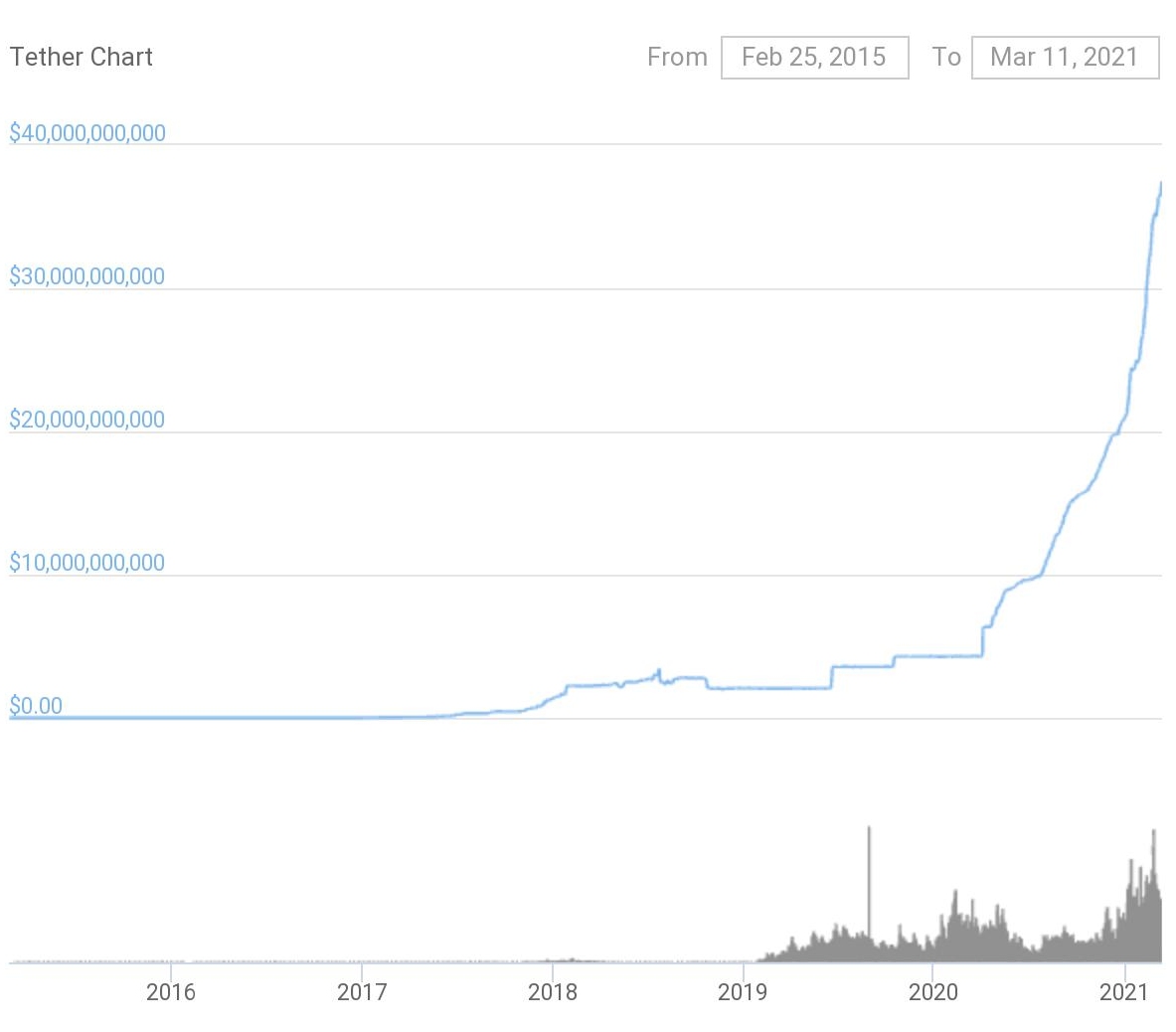 Source: Coingecko
Confusion over statistics
In a podcast interview conducted in January, the deputy CEO of Deltec said that Tether's cash reserves were not included in the Bahamian central bank's domestic banking statistics.
"We are not a domestic bank for the reporting of deposits," Gregory Pepin told interviewer Laura Shin.
However, the central bank of Bahamas appears to contradict this claim. It says in its statistical digest that 'other local financial institutions', a category that includes Deltec, are included in the domestic bank category for the purpose of the reporting of foreign liabilities (i.e., customer deposits in foreign currency).
The Bahamian central bank did not reply to our emailed request for clarification. However, there is past evidence from its own data to support the argument that Deltec's foreign currency deposits are included in the domestic banking statistics.
According to a Bloomberg article published in 2018, a $1.6bn jump in the Bahamas' banking sector's foreign currency liabilities in July of that year appears to have reflected the movement of funds from Tether's previous bank, Noble, based in Puerto Rico, into Tether's accounts at Deltec.
We asked Tether why, given that Deltec holds the cash part of its reserves, the large 2020 increase in tether supply had not been reflected in the official Bank of Bahamas banking sector statistics. The stablecoin issuer declined to comment.
NY won't want to be de facto Tether regulator
According to one cryptocurrency market observer, those expecting the New York authorities to help throw light on the mystery of Tether's reserve backing could end up disappointed.
"I don't think [the NYAG] will [force Tether to disclose its reserves], they will not see it as their job," Ian Grigg, a cryptographer and digital currency expert, told New Money Review.
"NYAG is in a dangerous position," said Grigg. "By undertaking this review they are in danger of stepping up and becoming the de facto regulator of Tether."
Now that Tether has committed not to undertake any New York business, said Grigg, "[The NYAG] will be very careful to not get engaged in overt actions."
Implications for bitcoin
Meanwhile, allegations have persisted since 2018 that the issuance of unbacked tethers has been used to prop up the market price of bitcoin.
Some prominent observers even believe the largest stablecoin poses an existential risk to the leading cryptocurrency.
According to Vitalik Buterin, the founder of the ethereum cryptocurrency, Tether is a "ticking time bomb" under bitcoin.
Buterin was speaking on the Tim Ferriss podcast, published March 9.
Sign up here for the New Money Review newsletter
Click here for a full list of episodes of the New Money Review podcast: the future of money in 30 minutes
Related content from New Money Review
NY Attorney General says Tether lied outright about its reserves
Tether's backing could be disclosed later this year
BitMEX trials could throw light on tether