Yesterday I wrote a post on Twitter saying that clients of crypto exchange Kraken didn't have much of a case for compensation after Monday's flash crash in ethereum.
During the flash crash, which saw the ethereum price drop by 2/3 on the exchange, clients saw their stop-losses hit and margined positions automatically liquidated, causing some to lose their life savings.
A Kraken client loses his/her life savings

While ethereum saw sharp losses around the world on Monday, it was only on Kraken that it tumbled by two-thirds. The prices of other tokens on Kraken, such as cardano and polkadot, also fell dramatically.
On Monday, Kevin Lu, a data scientist at Coinmetrics, blamed the flash crash on a malfunctioning trade matching engine at Kraken.
Ethereum drops by 2/3—but only on Kraken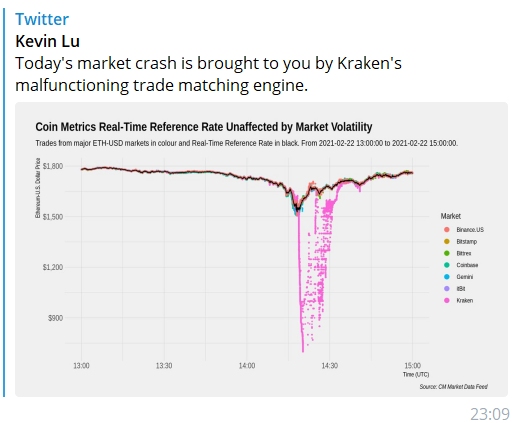 My basic premise when tweeting that there are no grounds for reimbursement by the exchange was that crypto markets are dangerous. So if you trade with leverage, stop losses, or both, you are putting yourself at risk.
"Unless Kraken clients can prove the exchange was trading against them during the flash crash, I can't see any chance of compensation," I tweeted.
In the past, other crypto exchanges have been accused of running proprietary trading books, which could incentivise them to liquidate client positions, especially during periods of market volatility.
In 2019, cryptocurrency sceptic Nouriel Roubini said:
"Insiders at BitMEX told me the internal trading group follows the order flow and bets against clients to liquidate them and profit from it. And they use 'overloads' to rekt [wreck] u more. As if a dealer at a casino who knows your cards was allowed to bet against you."
In October, the US Commodity Futures Trading Commission (CFTC) charged BitMEX's owners with illegally operating a cryptocurrency derivatives trading platform and violating anti-money laundering rules. One of the owners was arrested and bailed.
I bought a whole pineapple in Cambodia for $0.25. Same pineapple $3 in California.
Now if Kraken has been doing anything similar to what BitMEX is alleged to have done, they are in trouble. Kraken's CEO, Jesse Powell, though, has stated publicly that it is not involved in setting the prices on its own order book.
He also has a point when arguing—albeit insensitively—that crypto prices can vary from one exchange to another.
Kraken CEO Jesse Powell explains his exchange's pricing of ethereum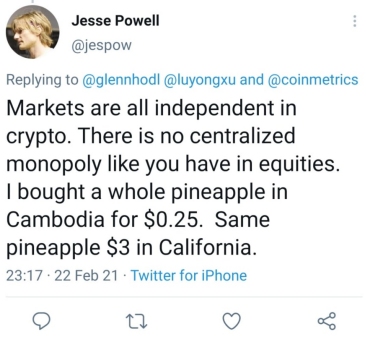 "I think the takeaway is that Kraken performed to expectations in a massive market move and you can count on your trades being final," Powell said following the flash crash.
"Kraken performed to expectations in a massive market move"
"What's the preferred alternative? That the platform malfunctions and we roll everything back when some people are unhappy with their trades?"
Why the about-turn?
So it has puzzled me to see that, since Monday, Kraken has done an about-turn and been handing out compensation offers left, right and centre. Even more confusingly, it's been offering different people wildly different amounts.
Here's what Kraken clients have been reporting on a Telegram chat during the last 48 hours.
One Kraken client is offered 5% of losses—and asked to praise the exchange on social media

A second is offered 15%

A third is offered 25%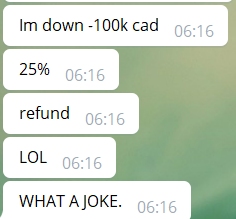 A fourth is offered 30%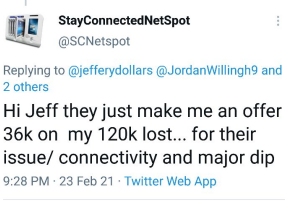 A fifth Kraken client is offered 40%

And a sixth is offered 50% back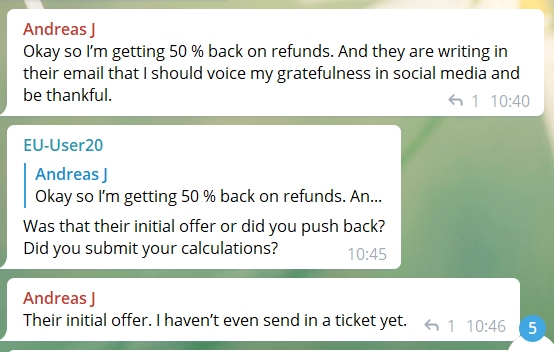 Why is Kraken making these offers now, having earlier defended its right not to give any money back? Why is it offering different people such different amounts? And what proportion of its clients has it offered to compensate?
I asked Kraken, but the exchange declined to answer these questions.
Instead, it referred us to a 23 February blog on its site, where it says it will deal with affected clients on a case-by-case basis.
"In digital asset markets, it's highly uncommon to reverse trades. This is because of the importance placed on the integrity of the matching process and finality of trading," Kraken said.
"If [clients] feel that yesterday's market volatility resulted in any wrongful or unfair action taken on your account, please open a support ticket by visiting this link."
***UPDATE***
On 26 February Kraken CEO Jesse Powell got in touch with New Money Review on Twitter and said, in response to this article:
"Hey, Paul. You're right that we don't make markets on the exchange. Trades were all user-user and matching worked as expected. We're coming out of pocket to help some people out for the sake of client retention. Where you'll find the difference is in how people do the math."
Asked to clarify the exchange's compensation policy, he said:
"Larger cases are evaluated individually. Smaller cases received an automatic credit. Amounts are based on what they would have received had the price floor been what it was at another venue. Generally, 80-100% of that is credited, combo of cash + fee credits."
************
Sign up here for the New Money Review newsletter
Click here for a full list of episodes of the New Money Review podcast: the future of money in 30 minutes
Related content from New Money Review
Ethereum network sees record congestion