A leaked Europol report suggests that law enforcement bodies are struggling to deanonymise bitcoin transactions passing through Wasabi, a popular 'mixer' service.
"Things are not looking good" for criminal investigations involving mixers, the European Cybercrime Centre said in a report prepared in April and marked for the use of law enforcement bodies only.
According to Coindesk, the report was leaked to the Telegram messenger service and its authenticity has been confirmed by Europol's press department.
By design, and unlike a transfer of funds in the traditional financial system, a single bitcoin transaction can have multiple inputs and outputs.
Wasabi specialises in 'coinjoins', the practice of mixing up those inputs and outputs to obscure the identity of the people participating in the transactions.
As governments worldwide have tried to impose a new transparency regime on cryptocurrency transactions, some cryptocurrency exchanges have tried to stop their clients moving funds to and from mixer services.
According to Europol, Wasabi presents a number of challenges for law enforcement bodies seeking to trace and block funds they deem illicit.
First, said Europol in its report, Wasabi's code is open-source, meaning users can check it is not doing anything malicious from their perspective.
Second, the crime agency said, Wasabi is a non-custodial service, meaning it does not have access to users' funds and therefore cannot be used to block them.
And even if they managed to take Wasabi's website down, law enforcement bodies could not obtain access to user logs or identify users, Europol admits.
Third, said Europol, Wasabi uses enhanced privacy features, such as the non-optional use of passwords, the integration of the 'TOR' browser and what it calls a 'unique and elaborate coin mixing mechanism', which relies on tested mathematical techniques.
Wasabi is gaining increasing traction, noted Europol, which said it had observed deposits of $50m into the mixing service over a period of three weeks, with almost 30 percent coming from dark web markets.
Wasabi, concluded Europol, is a 'very effective decentralised bitcoin mixer with many privacy-focused options', it provides 'possibly the most convenient and secure way to mix bitcoins' and it 'naturally also attracted those involved in criminal activities'.
The possibilities for law enforcement investigations are not looking good, Europol concluded, since it cannot hope to demix the transactions passing through Wasabi, unless users make a mistake that allows blockchain analysis companies to identify them.
"The sheer amount of transactions and uniform output amounts typically offer too many options of where the funds could have moved," Europol said.
Adam Ficsor, Wasabi's co-founder, commended the quality of Europol's report.
"The technical details of the report are factual and it is impressive they were able to describe the most important points in such a condensed way," Ficsor told New Money Review.
"I cannot, however, verify the data they have provided with regards to usage patterns. It is of course plausible, but considering the sensitivity of the matter it's better to refrain from speculation. As the saying goes: 'don't trust, verify'," Ficsor said.
"On the bright side, we have already known that we are providing outstanding privacy for our users, but their confirmation is certainly reassuring," he added.
"Furthermore, we've also pleasantly acknowledged that their assessment of our legal situation is coinciding with our lawyers' interpretation of various international laws, too," Ficsor said.
He said that Wasabi will soon publish a research paper on a new privacy technique to be added to the service.
Cypherpunk Holdings, a company listed on the Canadian Securities Exchange, last year invested in both Wasabi and Samourai, another bitcoin mixer service.
At the time of the investment, Cypherpunk's 4.5 percent equity stake in Wasabi valued the privacy wallet start-up at $7.5 million.
According to data published by Ficsor on Github, Wasabi's coinjoin volumes have risen steadily over the last year, reaching about 50,000 bitcoins (c. $485m) in April 2020.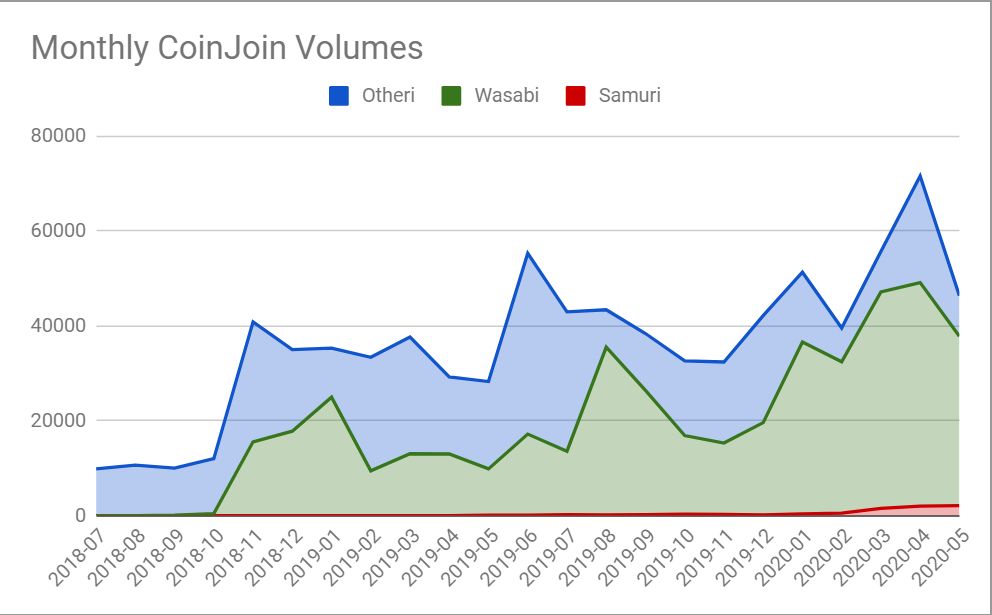 Sign up here for our monthly newsletter
Click here for a full list of episodes of the New Money Review podcast: the future of money in 30 minutes