What do Wikipedia—an online encyclopedia—and bitcoin—internet money—have in common? Both are open-source projects. This type of initiative is playing an increasingly powerful role in many areas of life.
Open-source networks function by having open collaboration between their participants. But what does that mean?
An open-source system tends to have a clearly defined goal.
In bitcoin's case, it's to serve as a peer-to-peer version of money: money that isn't controlled by any particular government or entity
In Wikipedia's case it's to provide a neutrally written summary of mainstream knowledge.
But having a clear goal is not the same thing as having a formal organisational structure. In an open-source project there is no boss issuing directions from above. And there is also often very loose coordination between those taking part.
All the same, these projects don't run on autopilot. There must be some human politics involved. So what are those politics?
To help answer that question, New Money Review interviewed Jaya Klara Brekke, a postdoctoral fellow at Durham University's Geography Department, where she researches future cryptoeconomics.
Our discussion with Jaya is featured in the latest New Money Review podcast, 'the future of money in 30 minutes.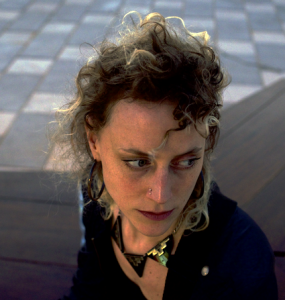 Jaya Klara Brekke
Here are some highlights from the podcast:
"There's a breadth of people involved in the cryptocurrency movement. But a lot of the people who became interested in bitcoin did so because they were disillusioned with the way the financial crisis was handled."
"This space is more open than it's ever been"
"There is a libertarian/alt-right attraction to bitcoin. But a lot of the work I'm doing is to try and recapture or open up a bit more space for the other political angles that exist. And that draws upon a longer history of the development of peer-to-peer technologies, one that doesn't come from a libertarian perspective."
"Rather than asking whether bitcoin has lost its radical roots, I think it's more appropriate to ask whether this space—developing cryptoeconomic decentralised network systems—still has radical potential. I think there is still plenty. And in fact this space is more open than it's ever been."
"Governance [in the case of bitcoin and similar networks] means how code is governed. There's a maturing in bitcoin and cryptocurrency around the question of governance."
"If decentralisation is the core principle, there's been a negotiation about what that really means. For a long time people thought it was enough to think about decentralisation just in terms of the technical architecture. But the building and maintenance of the architecture becomes very important when you have a conflict about a protocol change—such as the bitcoin scaling conflict."
"Governance is not a neutral process"
"Unique governance processes are emerging around how decentralised technical development happens. You see a new set of actors and processes through which conflict is negotiated."
"Governance is not a neutral process: it requires a certain set of skills, it requires an understanding of basis principles and ethics, it requires general consensus in a community about the overarching purpose of a project."
"There isn't yet a full grasp of these networks. It truly requires a cross-disciplinary approach. Our understanding is still being shaped. I'd really urge people, especially those from an economic, monetary, social or history background, to get involved. There's a lot of openness towards different perspectives."
"We're still some way from having a common language among network participants. But it's also about understanding the qualitative effects of encoding things into decentralised computer systems. It's an unknown field. It requires a lot of experimentation and careful assessment. We need much more clarity on concepts and metrics."
"We're going through an incredible period"
"There is no such thing as eliminating the human. Even if a smart contract is written without flaws, there is always the question of how it plays out in reality."
"What's interesting is not the statement that code can replace humans and legal institutions. The interesting point is to look at how DAOs and smart contracts reconfigure how humans come together to govern themselves and their systems. My argument is to look at things qualitatively, rather than assuming that either humans or machines win. The debates in this space become too polarised too quickly."
"We're going through an incredible period. A lot of political, economic and financial systems are being renegotiated, both on local and global scales."
Don't miss any more New Money Review content: sign up here for our newsletter
Support New Money Review on Patreon or in cryptocurrency