The fallout from last week's indictment by the New York State Attorney General of Bitfinex and Tether continues, this time in the form of a 6 percent price premium in the bitcoin/US dollar exchange rate on Bitfinex.
In a court order released on Thursday, the Attorney General accused the companies behind Bitfinex and Tether of defrauding customers by engaging in secret, conflicted transactions with related parties.
Bitfinex is a cryptocurrency exchange and Tether, operated by the same entities controlling Bitfinex, is a cryptocurrency token pegged to the US dollar.
In late Monday trading on April 29, the bitcoin/US dollar exchange rate quoted on Bitfinex registered a premium of over 6 percent to the quotes displayed on other leading global exchanges, such as Bitstamp, Gemini and Coinbase.
Bitcoin price premium on Bitfinex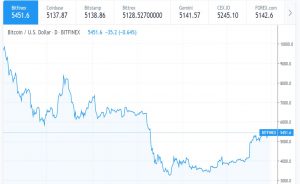 Source: tradingview.com
Cryptocurrency market commentators attributed the price premium to the actions of Bitfinex clients holding fiat currencies or tether, who are reportedly trading their holdings in for bitcoin, which is easier to withdraw from the exchange.
In its Thursday indictment, the New York State Attorney General alleged that tether was less than fully backed by dollars held in reserve. Instead, said the Attorney General, tether is partly backed by a a previously undisclosed loan agreement between Tether and Bitfinex.
The New York State Attorney General also provided substantial evidence of Bitfinex failing to obtain support from banks for transfers of fiat currency.
It's not the first time the dollar price of bitcoin on Bitfinex has exceeded that on other global exchanges. In April 2017, bitcoin traded at a 7-8 percent premium on Bitfinex, shortly after the exchange announced it had lost access to its normal banking channels.
In late 2013, a premium in the dollar price of bitcoin on now-defunct exchange Mt. Gox, then the leading cryptocurrency trading venue, proved a sign of intensifying liquidity problems. Two months later the exchange filed for bankruptcy protection in Japan.
Some companies dependent on Bitfinex for cryptocurrency market data are now moving to exclude the exchange as a service provider.
On Friday April 27 US cryptoasset manager Bitwise removed Bitfinex as a pricing source for its indices, although not for the reason of divergent market trading levels on the exchange.
Instead, Bitwise cited a requirement for its index data sources to be in compliance with local regulations and not subject to extraordinary regulatory or legal action.
Sign up here for New Money Review's monthly content updates