If you thought payments were just about the transfer of value from A to B, you were wrong.
"Payments are not about the movement of money any more, they are about data," says Michael Rolph, CEO of Yoyo, a mobile phone-based digital wallet that allows vendors to personalise loyalty rewards and offers for their retail customers.
Michael Rolph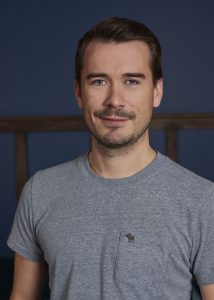 Yoyo has 1.5 million customers and tie-ups with Caffe Nero and Planet Organic, among other retailers.
"The most valuable dataset in the world is knowing who a person is and what they buy," Rolph told New Money Review.
Imagine if, instead of just seeing us as a walk-in customer, whose payment it either accepts or declines, a retailer could know other types of information about us: for example, whether we were visiting for the third time this week and spending more than normal; whether we were redeeming an offer and if we'd shared that offer with a friend; or if we were moving from A to B.
If we are buying online, internet retailers like Amazon already have a whole host of similar information about our purchasing habits. Rolph's company extends the principle to high-street retailers, who have traditionally lacked any equivalent purchaser information.
Yoyo insists it does this on an anonymised basis: retailers can't see our actual identities, merely a tokenised representation of the individuals who walk into their stores.
Customers paying with Yoyo's digital wallet now represent over 15 percent of sales at Caffe Nero, says Yoyo, while its average share of checkout transaction volumes at high street stores ranges from 12.5 to 30 percent, depending on the retailer it is working with.
"We can earn money from our behaviour"
Rolph believes that the merging of payment information with information about our habits and preferences is an inevitable trend.
"There's definitely a world that can evolve around how we as individuals are incentivised to open up information about ourselves to the brands and retailers that are more relevant to the lifestyles we are living," he told New Money Review.
"We can earn money from our behaviour. And for the retailer, marketing spend becomes revenue."
And yet many of us are still uneasy about how digital payments firms' access to our information.
Last week Claer Barrett, personal finance editor at the Financial Times, called out fintech firm Revolut for its London underground advertisements, in which it claimed to know how many people had bought a vegan sausage roll during January (11,867, said Revolut).
Revolut's sausage roll ad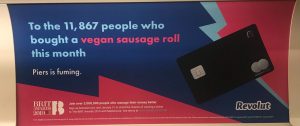 "How does Revolut know exactly what its customers have purchased?" asked Barrett.
"Contactless payments mean that tiny purchases—such as a £1 vegan sausage roll—are made on plastic, not with old-fashioned anonymous cash. Yet even so, our banks can only see where we have spent the money and the amount—not what we have spent it on. So how did Revolut get this information?"
Barrett asked Revolut to explain but found out that the company had invented the figure of sausage roll consumers. It didn't have the data.
Banks could not see the individual items customers had purchased, Revolut's media team told her, only the merchant involved and the amount.
But Rolph's firm can see such itemised purchase information, since Yoyo's customers have signed up to the promise of rewards in exchange for disclosing it.
In a blog responding to Barrett's FT article, Rolph claimed that Yoyo users had bought 14,224 sausage rolls in January, and it had the data to back it up.
"Yoyo captures individual and fully anonymised customer basket-level data at the point-of-sale (just like Amazon does online, only we do it for both physical stores, as well as e-commerce)," Rolph wrote in his blog.
"This enables our retail and banking partners to analyse and segment both on and offline purchasing behaviour and deliver the most personalised rewards, offers and experiences," he said.
"In case you're worried about data privacy issues, Yoyo guarantees that our banking and retail partners never see anything about you, your personal information or your financial data when you use our wallet," Rolph added.
Yoyo's CEO claims that its business model offers benefits to both vendor and purchaser: the vendor gets much more granular information about consumer habits and can tailor its marketing programmes accordingly, while the retail customer gains access to loyalty or other reward schemes that would otherwise be unavailable.
However, if the value accrues to both parties, for the time being it's only vendors who are paying for Yoyo's services.
"The consumer is willing to pay for value, but it's harder to prove at scale, so we've parked that for the moment," he told New Money Review.
"Our merchants pay us for a mobile-first experience that seamlessly blends payment, loyalty and marketing. They also pay us for a tool called Yoyo Engage that gives them a real-time insight into their business."
The attachment of data revealing consumers' behaviour data to payments appears an unstoppable trend.
"Many fintech services are free, making us and our spending data, the product. Could this data be monetised in other ways in the future? And what if this information is hacked?" queries the FT's Barrett.
"Yet using digital services to analyse our spending data can also be a money-saving tool," she concedes.
"I'm still seeing ads for the things I've already bought"
For Yoyo's Rolph, digital wallets are an improvement on the existing models for internet marketing.
"I recently bought some stuff on made.com and I'm still seeing ads on Google for the things I've already bought. That's how broken the system is," he says.
"Google is making money based on the fact that I looked and the brand is now paying away margin for a sale they've already got. We need to market better: either we should say, 'if they bought A, they may want B', or we should say 'if they've bought A, we're going to leave them alone."
"You can only do that by connecting a tokenised customer identity with the basket data. If you're a brand, why give money to all the intermediaries between you and the client? Just send me a message to my wallet."
Want to receive New Money Review's monthly content updates? Sign up here.