The cryptocurrency crash triggered by this week's failure of the FTX exchange has now reached the largest dollar token, Tether.
As at 12.10 GMT on 10 November, Tether had lost its $1 per token target price, trading as low as 93.81 cents on Kraken.
Tether price on Kraken exchange, 10 November 2022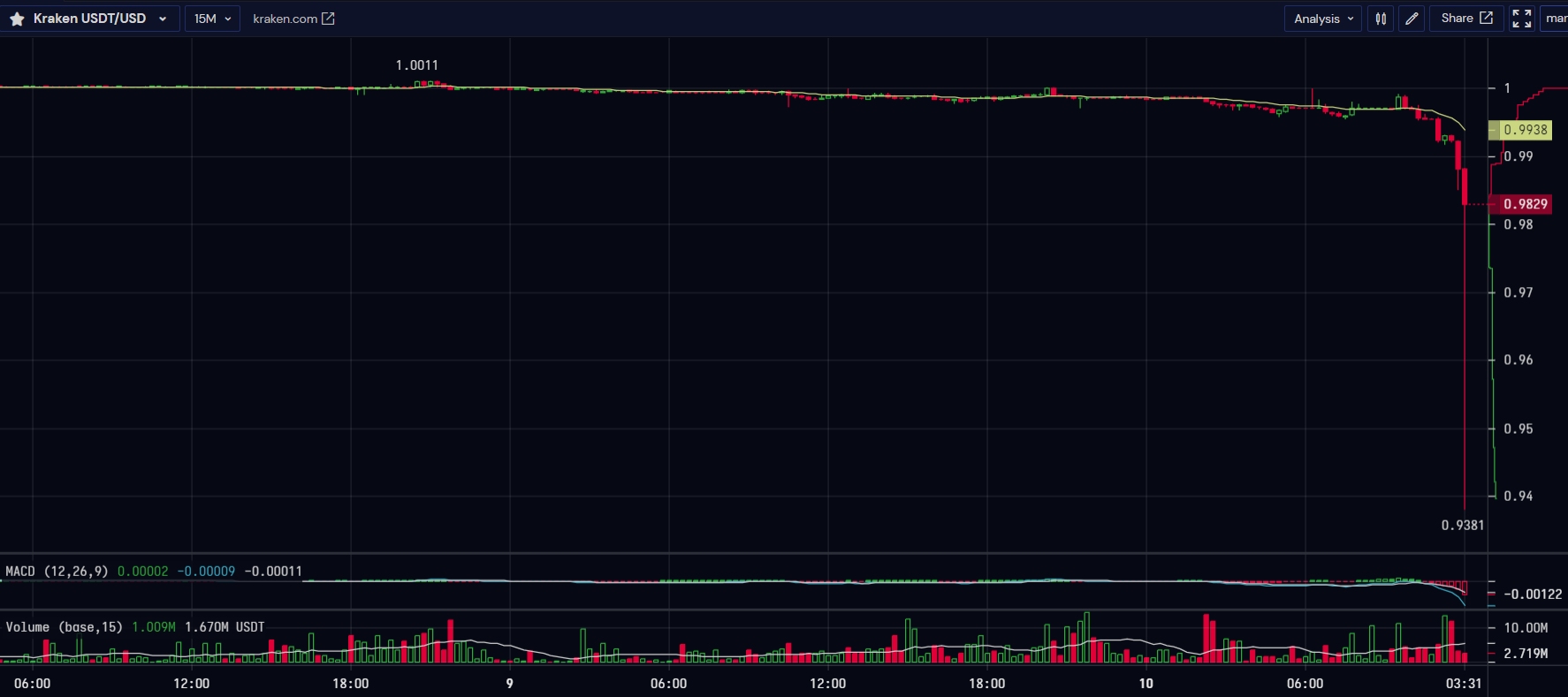 Earlier this year Tether tokens also lost their $1 peg, following the collapse of the cryptocurrency tokens Luna and Terra, before regaining par value.
Tether yesterday denied any exposure to the failed cryptocurrency exchange FTX and its sister entity, Alameda Research.
FTX collapsed earlier this week after revealing a balance sheet hole of up to $10bn. The exchange has suspended client withdrawals, leaving any investors holding assets on FTX unable to access their money.
"To be clear: #Tether does not have any exposure to FTX or Alameda. 0. Null. Maybe is time to look elsewhere. Sorry guys. Try again.", Paolo Ardoino, Tether's chief technology officer, tweeted on 9 November.
However, a Protos investigation last year showed that Alameda Research (a proprietary trading firm and the parent company of FTX) had received $37bn in Tether tokens directly from the stablecoin issuer.
Another trading firm, Cumberland Global, a subsidiary of high-frequency trading firm DRW, had also received over $30bn in Tether tokens, Protos said.
Yesterday, Alameda Research's website went blank.
Tether does not disclose its reserves in detail. At its last published attestation of assets and liabilities, conducted on June 30, it said it held 79.62 percent of the reserves backing its stated $66.4bn in assets were in cash, cash equivalents, bank deposits, money market funds and US Treasury bills.
5.25 percent of the reserves were in corporate bonds, funds and precious metals, Tether said, 6.77 percent in secured loans and 8.36 percent in other investments (including digital tokens).
Yesterday, Tether issued a statement in which it said that its tokens "are 100 percent backed by our reserves, and the assets that are backing the reserves exceed the liabilities".
In its end-June consolidated reserves report, Tether said it had not made any provisions for any credit losses from its asset portfolio.
Tether's market cap rose from $3bn in mid-2019 to over $80bn earlier this year, before declining to the current level of around $69bn.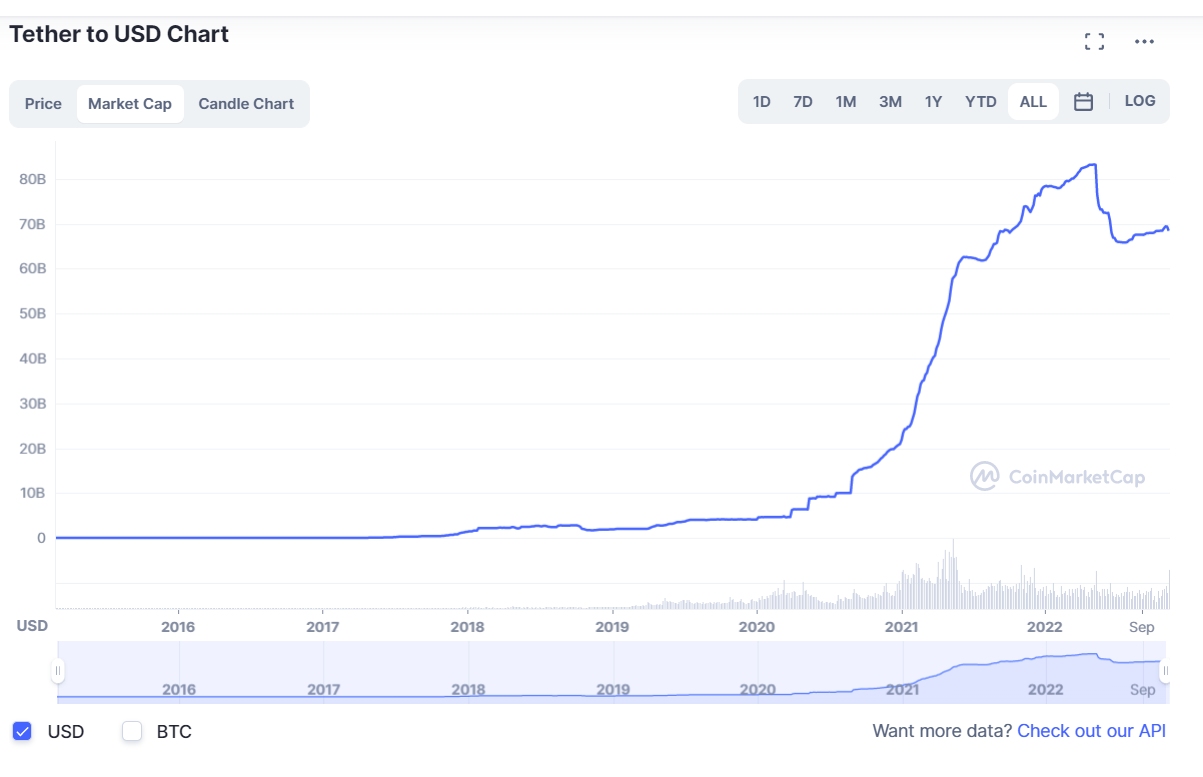 Tether's CTO claimed at 11.44 GMT today that the stablecoin issuer had handled nearly a billion dollars in redemptions following the FTX collapse.
"#tether processed ~700M redemptions in last 24h. No issues. We keep going." Ardoino tweeted.
However, judging by today's market price action in Tether tokens, some holders are unwilling to rely on the promise of a $1-per-token future redemption.
Tether does not guarantee token holders a general right to redeem in cash.
"The right to have Tether Tokens redeemed or issued is a contractual right personal to you," Tether says on its website.
"Tether reserves the right to delay the redemption or withdrawal of Tether Tokens if such delay is necessitated by the illiquidity or unavailability or loss of any Reserves held by Tether to back the Tether Tokens, and Tether reserves the right to redeem Tether Tokens by in-kind redemptions of securities and other assets held in the Reserves."
Many observers see Tether as key to the survival of the whole cryptocurrency market.
"The financial systemic risk Tether creates cannot be overstated," John Reed Stark, former chief at the Securities and Exchange Commission's Office of Internet Enforcement, said earlier this year.
Sign up here for the New Money Review newsletter
Click here for a full list of episodes of the New Money Review podcast: the future of money in 30 minutes
Related content from New Money Review
Blockchain settlement risks threaten financial system
Unstable DeFi could trigger wider crash