It's hard to stamp out a bad idea in cryptocurrency.
Shortly before the Terra (UST) stablecoin collapsed earlier this month, destroying most of the $50bn once invested in it and its sister token, LUNA, it earned an imitator—called USDD ("US decentralised dollar").
In the course of a month, USDD, which runs on the TRON cryptocurrency network, has gathered over $600m in assets, bucking the trend in a month where most cryptocurrency prices and tokens' market values have plummeted.
$USDD market cap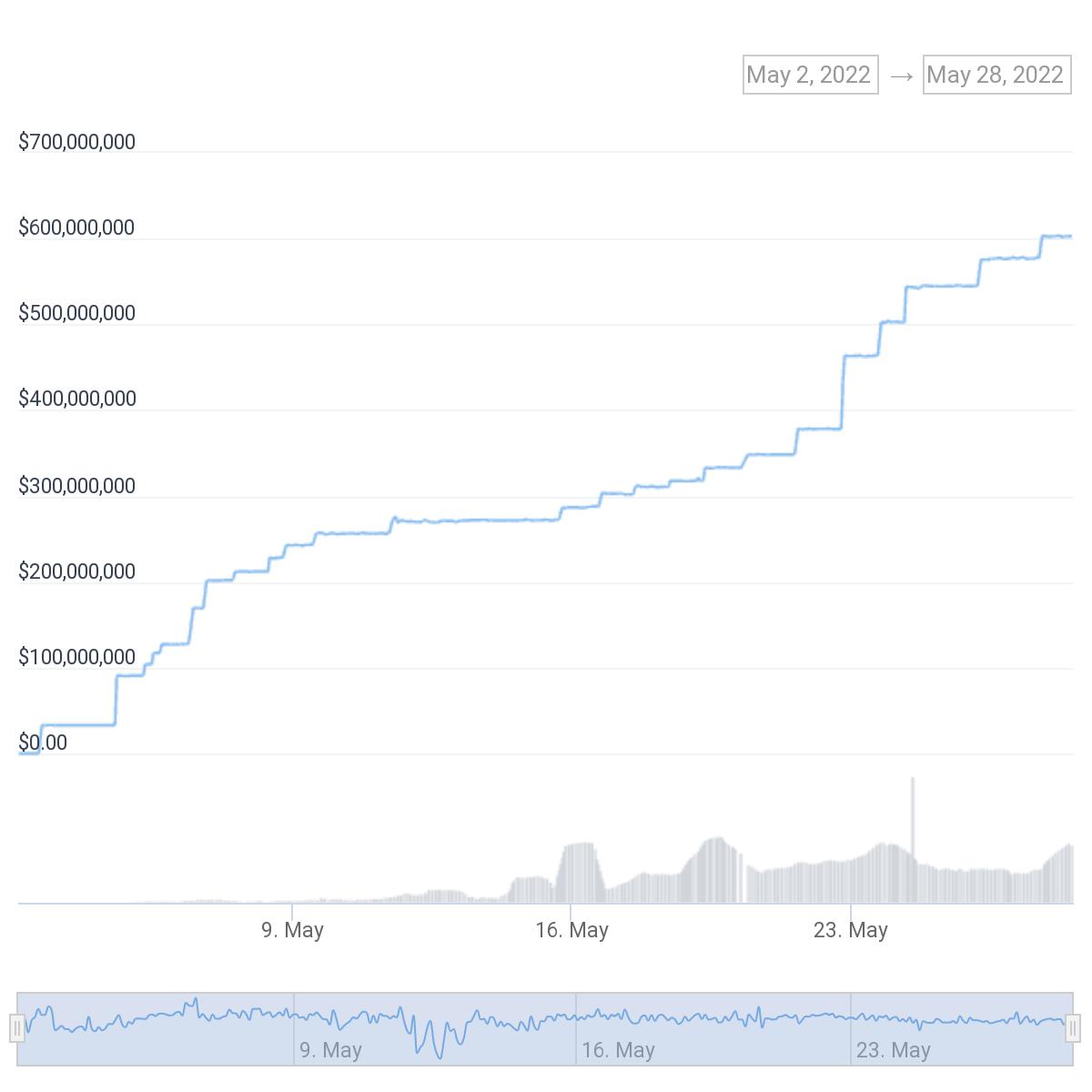 Another algorithmic stablecoin
USDD largely copies UST's design, that of a so-called algorithmic stablecoin.
UST was designed so that if its price fell below $1, automated trading programmes would swap the token for a dollar's worth of a freely floating cryptocurrency called Luna.
This would have the effect of shrinking the Terra supply and bringing its price back up to $1.
If UST's price went above $1, the same would happen but in reverse: removing Luna tokens from circulation would boost the supply of UST, bringing its price back down.
This idea worked until it didn't.
Withdrawals from the UST/LUNA system initially caused the UST stablecoin to lose its peg on May 9. Then the price of LUNA collapsed. Finally, the value of the whole UST/LUNA system deflated to near-zero, despite a bailout attempt that apparently favoured insiders.
In the case of USDD, it's the native token of the TRON network, called TRX, that is supposed to act as the stabilisation mechanism for the stablecoin, keeping its market price near par.
"When USDD's price < 1USD, users and arbitrageurs could swap 1USDD to 1USD worth of TRX in the protocol," the USDD white paper says.
"When USDD's price > 1USD, users and arbitrageurs could swap 1USD worth of TRX to 1 USDD in the protocol."
The TRX/USDD complex has garnered less in money terms than UST/LUNA. Currently, the market capitalisation of TRX is around $8bn, compared to nearly $40bn for LUNA at its peak.
Sky-high 'risk-free' interest rates
Just as demand for UST was supposed to be driven by a related deposit and lending platform offering sky-high interest rates, the same is the case for USDD.
"Crypto needs a decentralised stablecoin that regulators can't interfere with"
The only difference is that the Anchor Protocol, a platform built by UST's developer, Terraform Labs, promised an annual interest rate of 20 percent on deposits of UST.
But TRON is promising 30 percent on deposits of USDD.
On April 21 Justin Sun, the founder of TRON, said this annual interest rate was 'risk-free'.
In an interview with the Block, published on May 5, Sun and Do Kwon, the founder of LUNA/Terra, said they were pursuing a common goal.
"Crypto needs a decentralised stablecoin that regulators can't interfere with," the Block quoted Sun and Kwon as saying, just four days before UST lost its dollar peg.
Brash voices
If Do Kwon, the founder and CEO of Terraform Labs, had a reputation for brashness, he's arguably eclipsed by the founder of TRON, Justin Sun.
Last July, Kwon mocked Frances Coppola, a British economist who (correctly) predicted the failure of the algorithmic stablecoin model.
Coppola said on Twitter that the in-built self-correction mechanisms of UST and LUNA would not work if panicking investors were exiting en masse.
"I don't debate the poor on Twitter, and sorry I don't have any change on me for her at the moment," Kwon replied.
"Whoever asked this question, we're going to track them down"
According to the Verge, which published a lengthy profile of Sun in 2020, one of Sun's lieutenants at TRON would carry Sun's bag across the office for him, deferentially walking a half step behind him.
"It indulged Sun's own image of himself as famous and powerful," the Verge said.
In 2018 Sun bought file-sharing service BitTorrent for $140m. According to the Verge, when someone later asked at an internal meeting for BitTorrent employees what would happen if TRON's TRX token fell to zero in price, he gave an alarming response.
"Whoever asked this question, we're going to track them down," the Verge reported Sun as saying.
Sun then threatened "to kill their entire family", the Verge said.
"I can confirm that Justin Sun is every bit the scumbag this article paints him to be," Bram Cohen, BitTorrent's creator and former CEO, said on Twitter at the time.
Earlier this year, the Verge published a follow-up article in which it said Sun had escaped the Chinese authorities by fleeing to Seoul in 2017.
Sun later moved to Geneva, where he vacationed with Binance CEO Changpeng Zhao in 2019, the Verge said.
Diplomatic immunity
The well-publicised failure of Terra and LUNA hasn't deterred Do Kwon, who this week launched a new version of the project.
Kwon's Terra 2.0 involves 'hard forking' the existing blockchain and reissuing LUNA tokens to investors, based on a record of holdings before the LUNA and UST markets collapsed.
It's unclear whether Kwon, who reportedly lives in Singapore, will incur any penalty for presiding over the collapsed stablecoin complex.
According to Techcrunch, Kwon may face prosecution in his native South Korea over the collapse of LUNA and Terra.
The Seoul Southern District Prosecutors' Office said last Friday that it had started an investigation into Terraform Labs and had assigned the case to a special financial crimes unit run by justice minister Dong-hoon Han, Techcrunch said.
Justin Sun, however, has gone one step further in shielding himself from criminal prosecution, at least in one part of the world.
In 2021 Sun was appointed Ambassador to the World Trade Organization (WTO) for the Caribbean island of Grenada.
Sun now styles himself "His Excellency Justin Sun" on Twitter and displays a Grenadan flag in his profile, along with a symbol for the TRX token, a white T in a black circle.
According to Protos media, Sun's diplomatic status doesn't confer immunity from prosecution in Grenada, which has an extradition treaty with the US, but it does protect him in Switzerland, where the WTO is located.
Sign up here for the New Money Review newsletter
Click here for a full list of episodes of the New Money Review podcast: the future of money in 30 minutes
Related content from New Money Review
Stablecoins give regulators a headache
Did Terra operators bail out crypto whales?
Third-largest stablecoin loses its dollar peg
Terra depletes reserves in stablecoin panic