Bitcoin's hash rate—the processing power that secures the cryptocurrency's transaction history—continues to soar and is now up sixfold in two years.
Bitcoin miners currently perform an aggregate 123 exahashes (million million million hashes) per second.
Bitcoin's hash rate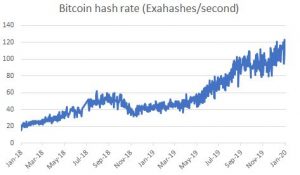 By comparison with the rocketing hash rate, the current bitcoin/US dollar price, at around $9,400, is marginally lower than it was two years ago, when the cryptocurrency traded at just above $10,000 per coin.
Many bitcoin miners use hardware manufactured in China, including the Bitmain Antminer S17, which performs 64 terahashes (million million hashes) per second. The Antminer S17 has largely replaced a previously popular model, the Antminer S9, which performs 14 terahashes per second.
Some recent entrants to the bitcoin mining market, such as Layer 1, a San Francisco-based start-up, are developing their own mining hardware, including their own versions of the special computer chips used to solve bitcoin's mining algorithm.
In October, Layer 1 said it had raised $50m from Silicon Valley billionaire Peter Thiel and a group of venture capitalists to help finance the construction of a new bitcoin mining operation in Texas.
According to Matt D'Souza, co-founder and CEO of Blockware Solutions, a bitcoin mining pool operator and hardware specialist, the cryptocurrency mining business is becoming increasingly specialised and geographically diversified, while there are regions of the world where the Antminer S9 is still in demand.
"Used bitcoin mining equipment is funnelling toward the cheapest power in the world," D'Souza told New Money Review.
"It's like water trickling down a mountain. The Antminer S9s will find a home where the lowest electricity rates in the world are. The S9s are getting scooped up and sent to places where power costs near zero: west Texas, upstate New York, the Pacific Northwest, Kazakhstan, Iran, and Venezuela."
Bitcoin's block reward is due to halve from 12.5 coins per block (currently worth around $117k) to half that amount some time in May 2020. The halving will take place at the 630,000th block minted since the cryptocurrency was launched in early 2009.
Bitcoin's block reward is due to disappear some time next century, after which miners will have to rely on transaction fees to keep the network going. Some say this will make bitcoin unviable in the long-term, while others believe bitcoin will be able to live on fees alone.
According to Blockware's D'Souza, we are still in the early stages of the latest bitcoin bull market. He expects to see the network hash rate approach 200 exahashes per second by the end of this year.
"With the bitcoin price rallying and likely just starting its next leg up, miners' margins are improving so they are getting more cushion for when the halving occurs," he said.
"If the bitcoin price continues at this rate and remains above $13,000-$15,000 after the halving, we can expect the hash rate to increase an additional 75 percent from here during 2020, reaching 200 exahashes per second."
Bitcoin mining is perhaps the riskiest industry in the world from a profit perspective, with miners subject to dramatic price swings in the underlying commodity price, as well as in the market for second-hand mining equipment.
But D'Souza is optimistic about the prospects for those currently involved.
"Margins are presently quite healthy for miners," he said.
"As long as that remains the case, miners will continue to buy more mining rigs and the hash rate will continue to soar. We project that about 35 percent of the network is still running old equipment. Therefore, the impressive mining hardware upgrade cycle we witnessed in 2019 still has legs."
Don't miss any more New Money Review content: sign up here for our newsletter