The Monetary Authority of Singapore (MAS) today issued stringent new rules banning cryptocurrency firms from promoting their tokens to the general public in the city-state. But in London crypto ads are still all over the local public transport system.
In a press release, which referred to cryptocurrencies as digital payment tokens (DPTs), the MAS warned that "trading DPTs is highly risky and not suitable for the general public as the prices of DPTs are subject to sharp speculative swings."
The MAS is the central bank and financial regulatory authority of Singapore. It said that cryptocurrency firms had been actively promoting their services to Singaporeans through online and physical advertisements and via automated teller machines (ATMs) in public areas.
"This could encourage consumers to trade DPTs on impulse, without fully understanding the attendant risks," the MAS said.
The new guidelines specify that henceforth, cryptocurrency firms can only market or advertise on their own corporate websites, mobile applications or official social media accounts.
Crypto ads boom in London
Singapore's crackdown on cryptocurrency ads comes amidst rising concern over the risks incurred by retail investors when gambling on fast-moving tokens with no intrinsic value.
According to Tony Marini, a specialist in gambling addiction and a recent guest on the New Money Review podcast, there's been a sharp rise in cryptocurrency-related self-destructive behaviour since the outbreak of the coronavirus pandemic.
In December, the UK's Advertising Standards Authority (ASA) issued a rebuke to three leading cryptocurrency trading platforms—Coinbase, Kraken and eToro—for 'misleading and irresponsible ads'.
However, on Friday the Guardian reported that Transport for London, the operator of London's public transport system, had shown 39,560 crypto adverts from 13 firms on its trains, buses and in stations in the six months between April and September 2021.
The boom in crypto ads jarred with an April pre-election promise by London's mayor, Sadiq Khan, to remove all gambling advertisements from the public transport system.
On Friday the Guardian cited Siân Berry, the UK Green party's former co-leader, as urging Khan to move forward with the ban.
"Investment bubbles have always worked by dragging in more and more inexperienced suckers towards the end of the cycle. That's the stage at which some of these projects may be at with all this public advertising," she said.
"People are struggling at the moment and they may have had blows to their life chances. They may have lost livelihoods or homes and be susceptible to get-rich-quick schemes," Berry said.
Some of the ads on London's transport network do not even specify a particular underlying cryptocurrency token or tokens.
For example, an advertiser called BOTS.io recently displayed an ad showing potential gains of more than 10,000% from an investment in an automated trading programme, which used cryptocurrency as the underlying asset. In its ad, BOTS.io does not say which cryptocurrency is involved in the trade.
BOTS.io's website says that clients using its service have a contract with BOTS Hungary Korlátolt Felelősségű Társaság, a Hungarian company with four employees and whose chief capital officer is a Dutch citizen called Colin Groos.
BOTS.io charges its clients a 0.2 percent deposit fee on fiat currency deposits, a 1.5 percent withdrawal fee and a 0.2 percent transaction fee on every trade a bot does.
According to the Guardian, when questioned about its ads, BOTS.io said that all investments come with risk. The gambling platform added that the financial crisis of 2008 had shown that traditional finance wasn't without its own dangers.
Number go Up spirit on London's tube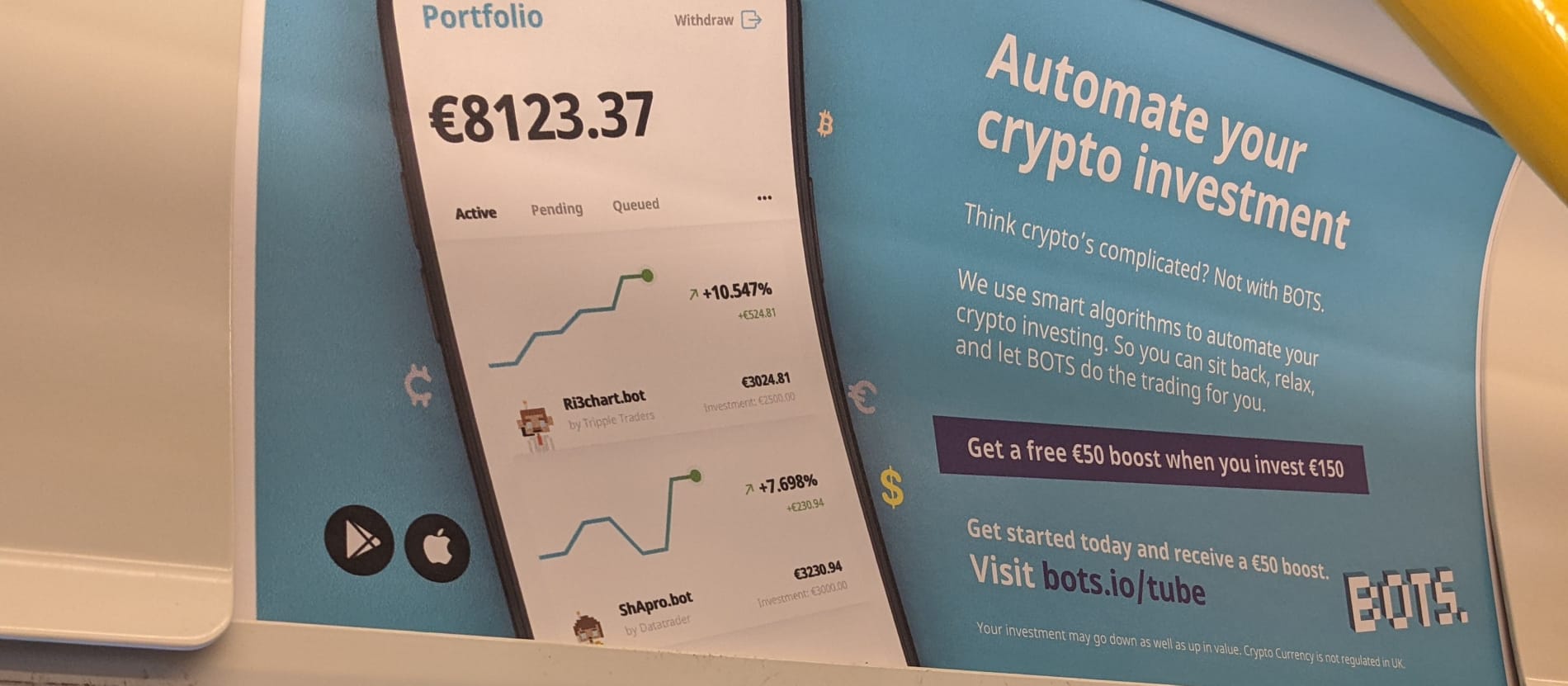 Sign up here for the New Money Review newsletter
Click here for a full list of episodes of the New Money Review podcast: the future of money in 30 minutes
Related content from New Money Review
Did Binance cover up May 19 liquidations?
A cryptocurrency sceptic speaks out