Following this week's forced shutdown of their activities in Kazakhstan, bitcoin miners face a rapidly shortening list of countries in which to place their equipment.
On 5 January, Kazakh authorities shut down the country's internet in response to spreading political unrest.
The move affected as much as 18 percent of bitcoin's global mining activity: miners rely on an internet connection to participate in the cryptocurrency network.
Last year, Kazakhstan emerged as one of the most popular countries for mining following China's decision to ban cryptocurrency.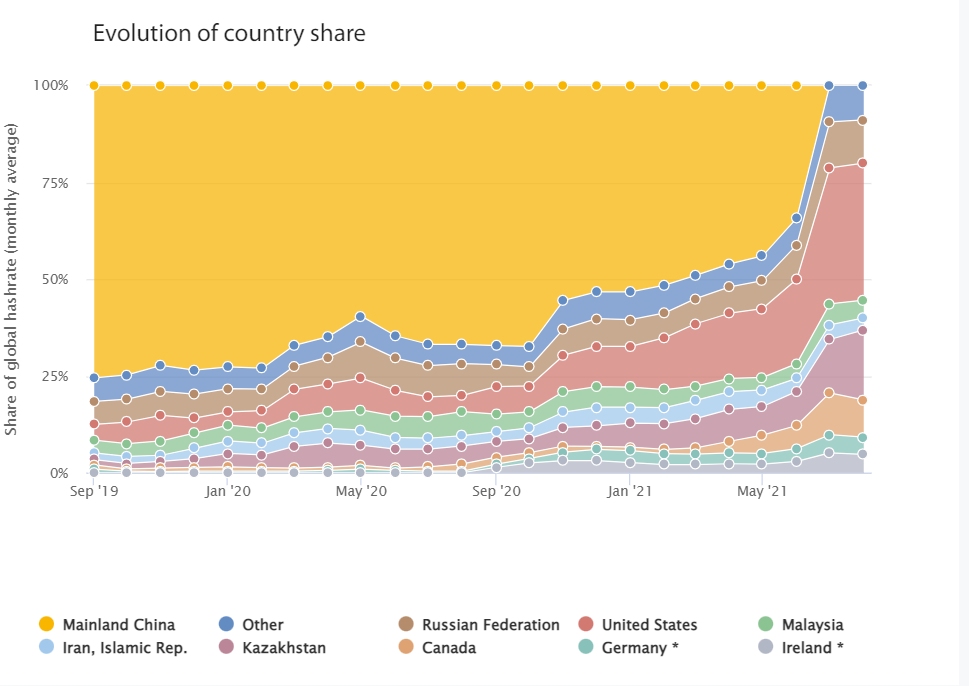 Source: Cambridge University Judge Business School
The shift of bitcoin mining equipment to the Central Asian country was responsible for a rise of 8 percent in Kazakh electricity demand, according to estimates.
By October, several power plants in the country, 70 percent of which use coal to produce electricity, were forced to ration supplies to businesses and consumers.
Rising energy costs have been cited as the main cause of Kazakhstan's recent deadly street protests.
The bitcoin miners whose equipment is now stranded in the country appear to have a rapidly shortening list of options to resume their activity.
According to Didar Bekbau, a co-founder of Kazakh bitcoin mining firm Xive, most miners are likely to wait within the country to see if conditions improve.
"Relocation from Kazakhstan to the US is very expensive when all the costs are summed up," he tweeted on January 7.
"Relocation to Russia is possible, but pace of deployment of new facilities is Russia is very low comparing to the US. Mostly ASICs stay inside Kazakhstan."
ASICs are the specialist computer chips used to mine bitcoin.
However, there are rising geopolitical risks for those seeking to move mining equipment to countries with relatively low electricity costs.
In Russia, a lawmaker recently threatened bitcoin miners with jail time if they plug their equipment into electricity grids without permission.
Separately, the country's central bank is seeking to ban cryptocurrency investments within Russia, according to Reuters.
Iran yesterday imposed a three-month ban on cryptocurrency mining because of electricity shortages.
Two days ago Kosovo took a similar step.
In November, Sweden called for an EU-wide ban on bitcoin mining.
Some bitcoin miners are calling for a shift to space to counter national restrictions on mining.
"Bitcoin miners could continue uninterrupted if they used #BlockstreamSatellite and alternative broadcasting methods," tech firm Blockstream tweeted on January 5.
"Every #bitcoin miner and node operator should have a backup communications channel for maximum redundancy and reliability," the firm said.
Critics of cryptocurrencies' energy usage are calling for a global ban on mining.
"A global coordinated ban is likely to prove the most effective policy option," said energy economists Alex de Vries and Peter Howson in a recent paper.
Sign up here for the New Money Review newsletter
Click here for a full list of episodes of the New Money Review podcast: the future of money in 30 minutes
Related content from New Money Review
A cryptocurrency sceptic speaks out
Crypto's wildfire growth creates run risks
Ethereum network sees record congestion
The cat and mouse game of cryptocurrency mining